When it comes to rednecks, Chino ranks No. 1 - if you believe it
Website ranks two county towns among its top 10

Originally Published: August 2, 2017 6:03 a.m.
REDNECK TOWNS
The website Roadsnacks.net ranked the most redneck cities in Arizona. Here are its rankings:
Chino Valley
Williams
Tolleson
Apache Junction
Parker
Cave Creek
Willcox
Winslow
New River
Dewey-Humboldt
Prescott has made the Top 10 list for a variety of reasons: best place to retire, happiest city, most sprawling city, greatest place to live, True Western Towns. But Chino Valley reached a pinnacle, of sorts, when it became the No. 1 Redneck City in Arizona according to Roadsnacks.com.
First of all, Chino Valley's population makes it a town, not a city. So perhaps the designation as No. 1 Redneck City in Arizona is a misnomer. Same goes for the Town of Dewey-Humboldt, No. 10 on the list.
Roadsnacks.net identified the town in 2015 as the No. 1 Redneck City in Arizona, posting online this disclaimer: "This article is an opinion based on facts and is meant as infotainment. Don't freak out."
Here are the criteria:
Least amount of high school graduates.
Number of bars per city.
Number of mobile home parks per capita.
Number of tobacco stores per city.
Number of places to get fishing gear.
Number of guns and ammo stores per city.
Walmarts, Bass Pro Shops, and dollar stores nearby.

The study included places within a city's boundary and within a "short" driving distance, no miles specified.
The study's criteria elicited this online comment by cipher_sixPhoenix: "Well, I know where I'm going if the zombie apocalypse ever breaks out. These guys will have the guns, the food, and the know-how to survive."
Roadsnacks.net purports that the Merriam-Webster Dictionary defines a redneck as: "A white person who lives in a small town or in the country, especially in the southern U.S., who typically has a working-class job, and who is seen by others as being uneducated and having opinions and attitudes that are offensive."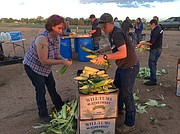 The data supporting Chino's No. 1 designation includes the population as 10,798. Gun stores per capita places it first in Arizona. Trailer parks per capita: 14th. High school graduation rate: 84 percent.
That last number, however, has changed in the past two years.
Assistant Superintendent Cindy Daniels, Chino Valley Unified School District, has an update on the graduation statistic.
"We actually have one of the highest graduation rates in the state, 92 percent (Class of 2016), and have been recognized at both the state and national levels for this accomplishment," Daniels said.
Arlene Alen, Chamber of Commerce executive director, was in Phoenix at the Governor's Conference on Tourism in Scottsdale this past week. She said the topic of Top Ten lists came up in one of the sessions.
"The consensus of the group was if you are No.1 in anything, market it. International tourists flock to Arizona, particularly from Canada and Germany, and they love all this 'Western.' Sounds like an interesting marketing opportunity to explore," Alen said.
Town Manager Cecilia Grittman, whose family moved to Chino Valley in the 1990s, had some fun with the study.
"One of the first things we all noticed is that everyone had a pickup and two dogs," she said. "At the time we had neither. I now have the pickup and currently have four dogs, and am absolutely loving it!"
As for Dewey-Humboldt, population 3,910, the residents need to get with it. Gun stores per capita places it at 25th in state. Chew factor: 15th.
Mayor Terry Nolan responded with information on where locals can find guns, bait, beer and Skoal.
"There is only one bar in the town (Billy Jack's) unless you want to count the American Legion Post. Believe it or not, at the moment we have only three mobile home parks in the town. There are two stores in town where you can purchase tobacco.
"I don't think we have any place where you can purchase fishing gear. The Blue Ridge Market used to sell bait. There are two establishments where you can purchase firearms or guns. One is Double K Shooting Sports in the same strip mall as the Blue Ridge Market, the other would be Reata Pass Auctions.
"As for shopping centers like Walmart, Bass Pro Shop, Cabela's, I wish we had something like that in our town," Nolan said.
Perhaps the next survey will take into account the number of roundabouts in a town. That may bump Chino Valley off the list entirely.
Nevertheless, most Chino Valley residents are delighted and honored to be part of the town, redneck or not.
"I guess you could say I am proud to call Chino home," Daniels said. "And we are very proud of having a successful FFA chapter, so if that makes us redneck, yippee!"
SUBMIT FEEDBACK
Click Below to:
More like this story