CAFMA building springs a leak
Fixing leaky walls could cost up to $40,000

By
Max Efrein
|
mefrein
Originally Published: August 2, 2017 6:01 a.m.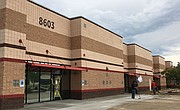 The Central Arizona Fire and Medical Authority (CAFMA) is having to invest what will likely be anywhere between $30,000 and $40,000 of unforeseen cost into its new headquarters due to concerns over recently noticed water damage, Chief Scott Freitag told the governing board at a special meeting on Tuesday, Aug. 1.
The authority purchased the building, located at 8603 Eastridge Drive, Prescott Valley, in June, 2016, for $1.32 million.
Though initially priced at $1.395 million, the authority negotiated a credit for some roof and parking lot work that needed to be completed.
That work is being wrapped up and CAFMA employees are scheduled to move in on Aug. 31.
One thing they will now have to address, however, is moisture being absorbed by the building through its walls.
"The building is very porous," Freitag said.
This was made increasingly clear as the monsoon season started.
"Water is wicking through the block," Freitag said. "What you'll notice is the lot of efflorescing… a white substance on the block."
Some of this substance was already on the building's walls when CAFMA purchased it, but they were told the wicking issue had already been dealt with and there was just some leftover residue.
If they allow this to continue, the concern is it will eventually rot the building.
Freitag has consulted several painting companies and contractors on what action is best to take in such a situation. The consensus is to essentially seal the entire building with a thick coating of product and then paint over it.
Freitag has already requested bids for the job and just got approval from the governing board to strike an agreement with whichever company bids the lowest. The deal is not to exceed $40,000 and the money will come from the board's contingency fund.
"This is considered to be in construction, in progress, so from a capital asset standpoint, it will eventually get figured into the overall cost of construction of the remodel," Dave Tharp, CAFMA's Assistant Chief of Administration, told the board.
More like this story
SUBMIT FEEDBACK
Click Below to: