Glassford Hill Middle School teacher earns top honor
Bradshaw Mountain High math teacher gets top first-year honor

By
Nanci Hutson
|
HutsonNanci
Originally Published: April 30, 2017 6:06 a.m.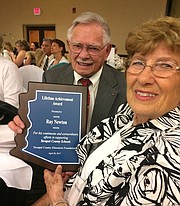 On Friday night, a Prescott Resort ballroom full of Yavapai County's finest educators did not have to answer questions from kids about why they have to read The Great Gatsby.
They didn't have to explain the science behind the disappearing polar ice caps. They didn't have to mediate arguments over who would be first in the lunch or recess line. They didn't have to hunt down a Ninja Turtle Band-Aid for yet another skinned knee.
Rather on this night, one proclaimed as their night, these educators were able to reflect on what some might suggest is a thankless profession with limited public regard but they deem as priceless.
The 55 teachers nominated for awards at the 23rd annual Yavapai County Education Foundation banquet were honored for their passion in an underappreciated profession where the fight for resources and recognition is a constant battle. They were heralded for their day-in, day-out commitment to changing the world one child at a time.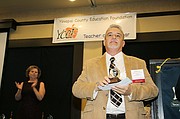 "Teaching is hard," declared Cindy Daniels, the foundation's Teacher of the Year chairperson and assistant superintendent for the Chino Valley Unified School District. "Teaching tests our mental, emotional, physical, and spiritual fortitude every minute of every hour of every day. But we live for it. We recognize the power of education to transform lives, to shape the future, and to change the world."
For three-and-a-half hours, the foundation celebrated the best of the best — the Outstanding First Year Teacher of the Year, five category winners and then the finale, Overall Teacher of the Year.
The 2017 Teacher of the Year is: Glassford Hill Middle School Language Arts teacher Jessica Marks in the Humboldt Unified School District.
With a shocked expression on her face, and tears in her eyes, the one-time journalist turned English teacher stood at the podium clearly humbled with an award she suggested is such an honor because there are so many teachers she so admires that could easily have taken home this prize.
"This is a hard job … but our kids absolutely deserve our best," Marks said from the podium as she strived to quell her emotional response to her selection. Marks was also the winner of the sixth-through-eighth grade category.
Despite the inevitable hurdles that come with instructing adolescents, Marks said she is awed by the courage, dedication, patience, determination and "grace" she witnesses every day from her students.\
"I love kids. I'm just so deeply honored," proclaimed Marks who is an adviser for the year book, the school's community service organization, the Junior Honor Society, peer tutoring and organizer of the annual trip to Catalina Island. "I am so lucky to have this job."
Humboldt Unified School District Superintendent Dan Streeter couldn't have been more delighted with Marks' selection, noting that not only did he try and hire her when he was a first-year principal in Humboldt but his son, Colin, is in her eighth-grade English class.
"Ms. Marks is a fantastic teacher. She does incredible things for kids," Streeter said.
The Outstanding First-Year Teacher of the Year is another pride of the Humboldt Unified School District: Stephen Ross, a retired electrical engineer and computer scientist who this year is teaching math at Bradshaw Mountain High School.
Other honors for the Tri-City district include: Prescott High School English teacher Courtney Check as the winner of the High School category; Prescott Abia Judd Elementary School Special Education teacher Melinda White, winner of the Cross-Grades Specialist K-8th category; Prescott High School Art teacher Amanda Chartier as winner of the Cross-Grades Specialist 9-12th grade category; and Chino Valley Unified District's Territorial Early Childhood Center first-grade teacher Elizabeth Kreitinger for the kindergarten through fifth-grade category.
A Lifetime Achievement Award was given to Ray Newton, a veteran journalist and journalism professor who is now professor-administrator emeritus from Northern Arizona State University and long-time foundation member and educational advocate.
On a video screen that played through the evening were a variety of pro-teacher themes. Two resonated throughout the evening.
"The best teachers are those who show you where to look but don't tell you what to see;" "The best thing about being a teacher is that it matters."
More like this story
SUBMIT FEEDBACK
Click Below to: