Lost hiker rescued by DPS helicopter
Originally Published: April 27, 2017 6:02 a.m.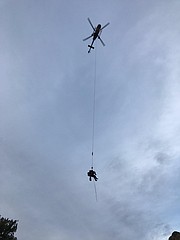 A woman who went hiking alone without food or water, and dressed for warm weather, was rescued by Yavapai County Search and Rescue team members who lifted her off a rock outcropping with the help of a DPS helicopter on April 23, according to YCSO spokesman Dwight D'Evelyn.
The 26-year-old victim had hiked to a remote area northwest of Devil's Bridge and, after realizing she was lost, became worried about falling through heavy brush, D'Evelyn said, and called for help just before 2 p.m.
It took rescue crews over four hours to locate the woman and bring her out safely.

The YCSO's Backcountry team coordinated with the DPS helicopter crew, which spotted the woman on a rock face, to rig a line that carried a crewmember below the helicopter.
She was flown off the mountain at about 6:30 p.m.
D'Evelyn said that, while the victim was correct to call for help, she told deputies that she was unfamiliar with the area and relied "on third-party unverified information," and became lost.
For more information on hiking safety, visit: https://www.fs.fed.us/recreation/safety/safety.shtml
More like this story
SUBMIT FEEDBACK
Click Below to: