Cheap park passes: One of the perks of turning 62 is a $10 lifetime pass

Originally Published: April 24, 2017 6:20 a.m.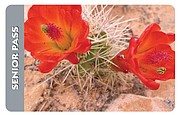 How to buy a pass
In-person:
Bradshaw Ranger District, 344 S Cortez St, Prescott, 928-443-8000
Chino Valley Ranger District, 735 N Hwy 89, Chino Valley, 928-777-2200
Verde Ranger District, 300 East Highway 260, Camp Verde, 928-567-4121
*Call to confirm pass availability.
Purchase $10 pass online (additional $10 fee req.)
Every Kid in a Park annual 4th grade pass
Free and available to all U.S. fourth-graders (including home-schooled and free-choice learners 10 years of age), this pass is valid for the duration of the fourth-grade school year through the following summer (September - August).
The student must have a paper voucher printed from the Every Kid in a Park website. Digital versions of the voucher (such as smartphones or tablets) will not be accepted. This non-transferable pass admits the fourth-grader and any accompanying passengers in a private non-commercial vehicle at a per vehicle fee area, or the pass owner and up to three adults at sites that charge per person.
Visit everykidinapark.gov for more information.
It's a pass that lasts a lifetime — well, beginning at age 62 and beyond, that is. The Senior Pass, offered through five federal entities, costs $10 and is good for as long as the person can use it.
The pass gains free entrance to 417 national parks and monuments, U.S. Forest Service sites, Bureau of Land Management, Fish and Wildlife Service, Bureau of Reclamation, and U.S. Army Corps of Engineers sites — any that charge an entrance fee. It also provides a 50 percent discount for fees at some campgrounds.
Betty and Terry Wood, passing through Prescott this past week, stopped in at the Prescott National Forest office on Cortez Street looking for some good hiking trails. Visiting from Tennessee, the 70-year-olds utilize their Senior Pass wherever they go.
"We got it a long time ago. It's been the best thing," Betty Wood said. "That was a happy day getting our pass."
A possible price increase — up to $80 — may take place by the end of 2017 based on the National Park Service Centennial Act that Congress approved in December 2016. This Act raises fees and sets up an endowment to help pay for projects and visitor services, the National Park Service website states.
The Senior Pass admits the pass owner and all passengers in a non-commercial vehicle into per-vehicle fee areas. Where per-person fees are charged, the pass gets the owner and three adults in free. Children younger than 16 are always admitted free. Park officials will ask to see photo identification to verify pass ownership.
If lost or stolen, you'll need to buy another one. If damaged, it can be replaced as long as a portion of the pass is identifiable and you show proper identification. If you forget it, you'll need to buy another or pay the entrance fee.
One active Prescott Valley hiker, 83, said he first obtained a Golden Age Passport in 2000, but on a 2010 visit to the Grand Canyon, he realized he had forgotten it.
"It made sense to spend $10 for a new one, instead of the regular admission," he said, asking that his name not be used. He uses the pass two or three times a year for the Grand Canyon, and over the past 10 years, also has been to the Petrified Forest, Yosemite and Zion on the pass.
The Park Service no longer sells Golden Age Passports, however, it continues to honor them.
"It really comes in handy, especially since the local hiking spots raised parking fees to $5," said hiker/kayaker Joe DiBuduo, 75. "It's the best deal I ever got for $10." He uses his pass about two to three times a week during the summer.
If you are not yet 62 years old, you may still purchase an annual pass to all of the same sites – more than 2,000 federal recreation sites – for $80 per year. This pass is good for 12 months from the month of purchase. Two people can sign the pass, so it's good for families that may travel with one or the other parent.
Current U.S. military members and their dependents qualify for a free annual pass.
The lifetime senior pass can be purchased at the following district locations:
Bradshaw Ranger District, 344 S Cortez St, Prescott, 928-443-8000
Chino Valley Ranger District, 735 N Hwy 89, Chino Valley, 928-777-2200
Verde Ranger District, 300 East Highway 260, Camp Verde, 928-567-4121
Visit this link for other places in the U.S. where you can purchase an annual pass in person.
It is recommended to call to confirm pass availability.
Passes can also be purchased online, but there is an additional $10 fee. Online purchases require you to upload proof of eligibility, such as a photo of your driver's license.
More like this story
SUBMIT FEEDBACK
Click Below to: