Chalk it Up! event continues today
Event brings in artists from around country

By
Max Efrein
|
mefrein
Originally Published: April 23, 2017 6:01 a.m.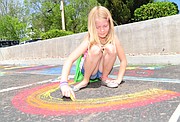 Sitting on the hot pavement in downtown Prescott's National Bank of Arizona parking lot, Cass Womack meticulously shaded a portrait of Lucy, a Florida panther that resides in Tampa's Lowry Park Zoo.
"She's one of my friends," Womack said. "I draw and paint her a lot."
Womack herself is from Florida. She came to Arizona for the first time this weekend to participate in Chalk it Up! Prescott.
"I travel all over the United States for these sort of events, but this is the farthest west I've been so far," Womack said.
On Saturday, April 22, she was among a few featured artists Chalk it Up! Prescott decided to invite out for the two-day event.
Willie Zin is another one. He hails from Long Beach, California. This is his fourth time participating in Chalk it Up! Prescott.
"I go to about 12 to 15 chalk art events a year," Zin said.
He enjoys Chalk it Up! because it's different from many of the other events he usually attends.
"Most of the events are adults and professionals, whether it's a competing one or a showcase one," Zin said. "This one is more like the kids community, so it's different. It's very relaxing."
Interacting with that younger crowd is a pleasure in its own.
"I just like to see kids get inspired," Zin said. "Some of the kids' work I see as I walk around is amazing."
Some local professionals are participating as well. Taking up one of the main chalk boxes is Dana Cohn, a professor of art at Prescott College and Yavapai College. He's attended every Chalk it Up! Prescott since its inception nine years ago.
"It's just a great place to see all of the different kinds of art and all of the different kinds of people that live here," Cohn said.
The reason Chalk it Up! Prescott is such a family friendly event is because it's free for anyone wishing to grab a box of chalk and start expressing themselves.
Surrounding the featured artists are many smaller boxes outlined by white tape. Any of those boxes that aren't already colored in are free to take over.
Linde Lisbona, for instance, was coloring a box with his son on Saturday. "It's just a fun way to spend an afternoon with your family," Lisbona said. "We've been doing it for years."
The event is currently made possible the West Yavapai Guidance Clinic Foundation, which took over hosting it three years ago and turned it into a fundraiser for the foundation.
"A group of friends started it initially," said Laura Norman, executive director of the WYGC Foundation. "They were just ready to pass the baton a few years ago, so we agreed to take it over and keep it free. Through sponsorships and donations we make it a fundraiser."
"We're not even through day one and we've already raised more money than we have any year before," Meredith Brown, an AmeriCorps Vista member serving at West Yavapai Guidance Clinic, said midday Saturday.
Chalk it Up! Prescott continues Sunday, April 23, from 10 a.m. to 4 p.m. For more information, visit www.Prescottchalkart.com.
More like this story
SUBMIT FEEDBACK
Click Below to: