Tennessee girl safe, teacher arrested near California cabin
Originally Published: April 21, 2017 6:03 a.m.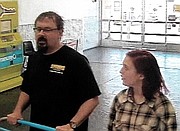 NASHVILLE, Tenn. (AP) — A 15-year-old Tennessee girl was rescued near a cabin in a remote part of northern California on Thursday, more than a month after her 50-year-old teacher kidnapped her and set off a nationwide manhunt, authorities said.
Health sciences teacher Tad Cummins surrendered to sheriff's deputies without incident in Cecilville, California, hours after they had set up surveillance on his vehicle in the area, the Tennessee Bureau of Investigation said. The girl was apparently healthy and unharmed, and authorities said their main concern was her emotional and mental state.
"We couldn't be happier to tell you she will soon be on her way back home to Tennessee," Tennessee Bureau of Investigation Director Mark Gwyn said.
Cummins faces state charges of aggravated kidnapping and sexual contact with a minor as well as a federal charge of taking a minor across state lines to have sex. If convicted of the federal charge, he faces at least 10 years in prison, acting U.S. Attorney Jack Smith said.
Authorities declined to answer a question on whether the girl went willingly, saying it didn't matter.
More like this story
SUBMIT FEEDBACK
Click Below to: