Prep Baseball: Cougars upset Crusaders on Hixon's walk-off 2-run double in extras
By
Doug Cook
|
dougout_dc
Originally Published: April 21, 2017 11 p.m.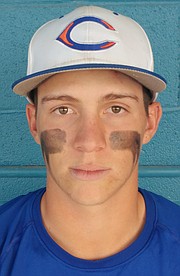 Seventeen days ago, on April 4, Chino Valley baseball pitcher Tyler Hixon struggled mightily in a blowout loss at 3A West region power Northwest Christian. He would make up for it in spades in a rematch on Friday at home.
Hixon's two-run double plated Jayden Loftin and Skylar Brooks with two outs in the ninth inning, handing 3A No. 11-ranked Chino Valley a 2-1 come-from-behind upset victory over No. 5 Northwest Christian at Nesbitt-Pratt Field.
The win gives the Cougars the inside track to win the region title, provided they defeat region foe Wickenburg in their season finale on Monday.
"That was one of the best high school games I've ever been a part of," Chino Valley coach Mark Middleton said.
On the game-winning hit, Hixon said he tore into a fastball on the outside corner facing Crusaders starting southpaw Jarin Davis, who carried a no-hitter into the eighth inning.
"It was a hittable pitch, but he's a great pitcher," Hixon added. "It feels good [to win]. Everybody's excited. We worked real hard to get here."
Despite his heroics at the dish, it was Hixon's performance on the mound that stood out most, as Chino Valley and NW Christian went to extra innings in a scoreless tie.
Davis had a no-hitter going through seven innings until Kaleb Chacon hit an infield single with one out in the eighth. Davis stayed in to finish the contest.
"This was his game, from start to finish," Crusaders coach J.C. McKee said of Davis. "He threw a gem. He only ended up throwing like 86 pitches in nine innings. That's a great ballgame."
Hixon threw a six-hit shutout on 105 pitches through eight innings. Middleton pulled Hixon after he walked the leadoff batter, Ryan Lopez, in the ninth. J.P. Basua relieved Hixon.
Middleton said Hixon "got shelled" in his first meeting with NW Christian because he relied too heavily on his off-speed pitches.
"We dominated with the fastball," added the coach, who called the pitches Friday. "He was keeping everything low and spotted his fastball in. He wanted this start more than anything. He took care of it."
Later in the ninth, with one out and the bases loaded, Crusader Noah Gray's RBI sacrifice plated Lopez, handing the visitors a 1-0 lead. But Chino Valley forced a groundout from Dylan Smith to end NW Christian's inning, stranding two runners.
Chino Valley looked to be in trouble in the bottom of the ninth.
And yet Davis began to show kinks in his armor after forcing a quick groundout. Pinch hitter Loftin walked on six pitches. Then, despite striking out pinch hitter Basua on six pitches, Davis walked Brooks on four offerings.
That brought Hixon to the dish, who blistered the first pitch he saw to the opposite field, high and deep down the right-field line. Hixon was 0 for 3 until his final at-bat.
"We had them with two outs and I should have gone off-speed [to Hixon]," Davis said. "I left fastball outside and he took it 'oppo' like he should've. But I had him off-speed all game, and I should've given it to him again."
Loftin scored easily from second to tie it, but Brooks was nearly gunned down at home by right fielder Lopez.
On the play at the plate, Brooks managed to slide under the tag of Crusaders catcher Logan Ripple to end it as a celebration ensued in Chino Valley's dugout.
"We just wanted to get revenge on Northwest Christian so bad since they beat us 13-1 last time," Brooks said.
If Chino Valley (8-1 region, 12-4 overall in power-point games) beats struggling Wickenburg (1-8, 1-13), a loser of six straight, the Cougars would capture their first region title since 2014. Just as important, the Cougars would earn an automatic berth into the 16-team 3A state tournament, which starts May 5.
Northwest Christian (8-1, 13-4), a stalwart which won the Division III state championship in 2015, not only suffered their first region loss Friday. The Crusaders hadn't lost since March 9 to current 3A No. 1 Payson, 4-0.
Chino Valley will probably take some time to celebrate and then focus on Wickenburg. After the game, Hixon received a well-deserved Gatorade (in this case, ice-water) bath from a few of his teammates, who ambushed him near the home dugout.
"We have the best team that I've ever been on," said a soaking-wet Hixon, "and I love them all."
UP NEXT
Chino Valley closes out the regular season at 3:45 p.m. Monday versus Wickenburg on Senior Day at Nesbitt-Pratt Field. Brooks will start at pitcher, Middleton said.
Northwest Christian hosts Odyssey Institute (5-4 region), also on Monday, for their finale in Phoenix.
Follow Doug Cook on Twitter @dougout_dc. Reach him at 928-445-3333 ext. 2039, or via email at dcook@prescottaz.com.
More like this story
SUBMIT FEEDBACK
Click Below to: