Chalk It Up! Prescott this weekend
Free family art event covers entire downtown parking lot

Originally Published: April 20, 2017 8:56 p.m.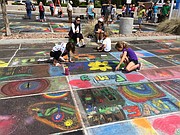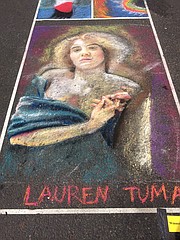 The Ninth Annual Chalk it Up! Prescott event takes place from 10 a.m. to 4 p.m. Saturday and Sunday, April 22-23, in the National Bank of Arizona parking lot, 201 N. Montezuma St., Prescott.
The entire family can participate in this free event. Its intent is to "cultivate and support creativity, and raise awareness and funds for mental health, crisis intervention and substance use treatment services through West Yavapai Guidance Clinic Foundation," the Chalk it Up! Prescott website states.
No need to bring your own chalk, it's free, although you are welcome to do so as long as you use water-based and not oil-based chalk. Boxes of 12 colors are free to everyone.
"We do have others – 24- and 48-packs – available for a suggested donation," said Meredith Brown, event coordinator.
Other things to consider bringing if participating: a color image to work from, hat and sunglasses, sunscreen, water bottle with a lid, cardboard to sit or kneel on, gloves to keep your hands clean, whisk broom, rags or brushes to blend, masking tape if working with straight lines, dust mask, snacks, and a camera.
"Chalk is very forgiving. If you make a mistake, you can brush off the area and change it, or use a wet rag to dab it off, allow the area to dry and then continue," the website advises.
Weather forecast for the weekend is the upper 70s and breezy conditions. Hat and sunglasses will help visitors enjoy browsing the artwork and watching artists.
About 1,500 participants created a piece of chalk artwork this past year, Brown said.
Featured artists have larger spaces reserved for their spectacular masterpieces; smaller taped off boxes are available for anyone to use.
The first event occurred in 2009 by a group of friends; now more than 5,000 attend. Live entertainment throughout both days is an extra treat for participants and audience.
Pre-registration is not necessary, unless you would like to chalk a space bigger than 4 feet by 4 feet. To pre-register, contact Meredith Brown at 928-445-5211, ext. 3634 or m.brown@wygc.org.

All proceeds go to help fund next year's event, and to benefit the WYGC Foundation to improve community mental health. Chalk it Up! donated $12,000 this past year to the agency.
"People ask, 'How do you make any money from it?' We have amazing, generous sponsors, some individuals and mostly businesses, in dollars, or in-kind in food or water," Brown said. "It's for community mental health programs. It's really exciting and we're hoping to raise more than that this year."
Volunteers are also welcome to help tape off pavement work areas, register people at the welcome tent, answer questions, and help clean up at the end of the day.
SUBMIT FEEDBACK
Click Below to:
More like this story