Swarm Weather! What you should do if you encounter bees
Originally Published: April 19, 2017 6:02 a.m.
As a child, you probably heard the old adage, "If you don't hurt bees, they won't hurt you."
That's still true today, and especially when honeybees swarm, gathering on trees and the like.
A swarm is the way part of a hive of bees moves out when the original hive is full, said beekeeper Tom Veatch. The swarm is out looking for a new home.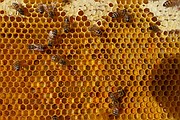 "This is the normal way you end up with more colonies of bees," Veatch said, but "they might have to stop off on a tree because the queen is tired" of flying, and they stop to rest.
Scout bees are still out looking for a suitable home while the swarm rests, he added.
The stories of so-called Africanized honeybees' aggression are only partially accurate: they fight back hard when threatened, but don't generally look for trouble.
What not to do:
• Don't panic. The bees aren't interested in you unless you present a threat.
• Don't call the fire department unless someone is being attacked.
Prescott Fire Division Chief Don Devendorf said they will respond only if people are in danger.
"If they are in the house or in a car, they can drive away or stay where they are and would not be in danger," he said, but if a person is being stung, then the fire department will respond and treat the victim.
They will also kill the bees using firefighting foam to stop the attack, which is why they don't respond unless there is a victim.
• Don't try to deal with the bees yourself. This is a job for specialists.
What to do:
• Nothing. If there's no real problem, wait a while, and the bees almost certainly will move on. Veatch said this could take a day or two.
• Call a bee-removal expert. These people can gather and safely move a swarm to a new hive where they will be happy and healthy. Check www.prescottbeekeepers.com for a list.
• Keep children (and curious adults trying to shoot a selfie) from trying to get a closer look at the swarm. Watch pets and livestock as well.
If you are attacked:
• Run, in straight line, away from the bees. Most people can outrun a honeybee, which is actually fairly slow.
• Do NOT jump into water. Bees will wait for you to surface and then the first thing they'll see (and sting) is your face.
• Get inside immediately if you're stung. The sting produces a pheromone that tells other bees you're a threat.
If you are allergic to bee stings, get medical help immediately. Anaphylactic shock can occur in minutes or even seconds. If you don't know if you're allergic, watch for these symptoms:
• suddenly feeling hot
• trouble swallowing
• skin reactions, like hives, flushed or pale skin
• a swollen tongue
• nausea
• trouble breathing
• tingling in the extremities
Sometimes, the scout bees choose a place humans don't like, and the colony moves in. If they want to set up permanent housekeeping in your attic, all of the above advice still applies.
We need bees to keep plants thriving, and with the survival problems they've been having in the past few years, "the last thing you want to do is call an exterminator," Veatch said.
Follow Scott Orr on Twitter @AZNewsguy. Call him at 928-642-6999. Email him at sorr@prescottaz.com.
More like this story
SUBMIT FEEDBACK
Click Below to:
This Week's Circulars
To view money-saving ads...