3 arrested on charges including drugs in I-40 traffic stop
Originally Published: April 19, 2017 6:01 a.m.
Three people were arrested on multiple charges after deputies found meth and counterfeit money in the vehicle they occupied during a traffic stop on Interstate 40 in Ash Fork on Monday.
At around 7 a.m. that day, a Yavapai County Sheriff's K9 deputy stopped a 2014 Toyota Corolla eastbound on I-40 for an equipment violation, according to a news release. The driver, 29-year-old Matthew Sturges from Oklahoma, had two passengers in the vehicle: Savanna Taylor, 19, from Oklahoma and Michael Knesel, 58, from California.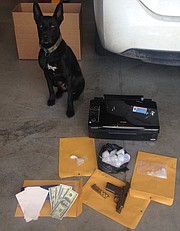 During a conversation with the occupants, all were extremely nervous and provided seemingly deceptive answers to simple questions that passengers traveling together should commonly know, the news release states. The deputy's training and experience led him to believe the vehicle likely contained drugs and/or other contraband, and he requested consent to search. Sturges declined and denied there were any guns or drugs in the vehicle.

With reasonable suspicion drugs may have been in the vehicle, the deputy deployed his certified K9 partner, Vader, for a free air search of the exterior. During a walk along the driver's side of the Toyota, Vader alerted, indicating the odor of drugs. Sturges then admitted he had a handgun hidden under the front seat but continued to deny any drugs would be found in their car, the release said.

In a search of the vehicle, deputies recovered the handgun and found marijuana and meth on the floorboard, along with a plastic baggie of meth in a backpack lying on the rear seat. Inside another container, deputies located forged U.S. currency in $100 denominations and other bills that were "washed" in preparation to print higher denominations. In the trunk, deputies found eight separately packaged baggies of methamphetamine inside a suitcase — about one-half pound. A computer printer was also discovered and likely used as part of the counterfeiting.
The total weight of meth seized was nearly 9 ounces.
All three denied any connection to the half-pound of meth located in the trunk and were booked at the Camp Verde Detention Center.
Taylor's charges include Possession of Dangerous Drugs, Transportation of Dangerous Drugs, Possession of Marijuana, Possession of Drug Paraphernalia, and Promoting Prison Contraband (a drug pipe found on her during a search). She remains in custody on a $10,000 bond.
Knesel's charges include Possession of Dangerous Drugs, Transportation of Dangerous Drugs, Possess Forged Instrument, Possession of Forgery Equipment, and Criminal Possession of a Forgery Device. He remains in custody on a $75,000 bond.
Sturges has charges that include Possession of Dangerous Drugs, Transportation of Dangerous Drugs, Misconduct Involving Weapons, Prohibited Possessor, and Possession of Deadly Weapon during Commission of a Felony. He remains in custody on a $40,000 bond.
The investigation continues.
Citizens can call the Yavapai County Sheriff's Office with information or questions at 928-771-3260 or visit ycsoaz.gov.
Information provided by the YCSO
More like this story
SUBMIT FEEDBACK
Click Below to: