YouTube channel showing giraffe birth 2nd most live-viewed
Originally Published: April 18, 2017 6:02 a.m.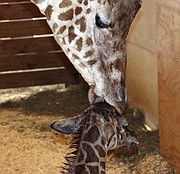 HARPURSVILLE, N.Y. (AP) — The long-awaited arrival of April the giraffe's baby in upstate New York has made Animal Adventure Park the second most live-viewed channel in YouTube's history.
YouTube says April's livestream had more than 232 million live views and 7.6 billion minutes of live watch time since February, second only to League of Legends eSports, which has been around since 2012.
The not-yet-named male baby giraffe was running around with its mother within three hours of birth Saturday at the private zoo in Harpursville, a village 130 miles (210 kilometers) northwest of New York City.
Animal Adventure Park owner Jordan Patch says the baby is healthy and April is recovering "perfectly."
April and the baby will be introduced to the public when the park opens for the season next month.
(View Note: In this 4-hour video April the Giraffe gives birth to her calf. The video shows the entire labor and delivery. Fast forward to around 2:28:30 to see the birth in progress.)
More like this story
SUBMIT FEEDBACK
Click Below to:
This Week's Circulars
To view money-saving ads...