One-time Prescott mystery writer gives PCA docent talk on April 17

By
Nanci Hutson
|
HutsonNanci
Originally Published: April 16, 2017 6 a.m.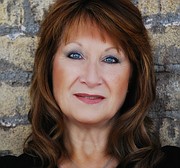 A two-year Prescott resident, long-time television and print journalist and artist/musician Laurie Fagen who just finished publishing a second crime fiction novel will give a talk on her book and art to the Prescott Center of the Arts docent group on Monday, April 17.
The story behind this novel, "Dead Air," published by Short on Time Books, is of a radio reporter who covers the crime beat in Chandler, Arizona; Fagen divides her time between Prescott and Chandler. The reporter, too, helps police solve cold cases, and operates her own mystery theater "film noir" podcast.
The book plot, the second in Fagen's "Behind the Mic Mysteries" series, revolves around what Fagen said connects to a news story about a police shooting and a cold case sexual assault she covered years as a television reporter years earlier.
"I transported a news story I covered for television news in Iowa to Arizona," she explains in a news release related to her new book release. "It was the brutal shooting of two police officers where the suspect fled into the Iowa cornfields for a week before he was apprehended. Chandler also has cornfields, so the basic premise fit perfectly, of course with much fictionalization added."
Fagen's next book in the mystery series, titled "Bleeder," will incorporate a fictionalized version of the trial of the
man she renamed "Matthew T-Bone Peters."
The story will have connections to Prescott as Fagen said she intends to stage part of her story in the Prescott area.
"The original trial was moved across the state on a change of venue, so
I'm going to set the fictional 'trial' in Prescott," Fagen said in the news release. "I still have my notes and stories from the original court proceedings, and will use them for that part of the story to be at the Yavapai County Courthouse and surrounding Prescott area."
Fagen bought a condominium in Prescott two years ago, and her parents, Lowell and Lani Fagen, live at the Las Fuentes Resort Village.
Her 10:30 a.m. program at the Prescott Center for the Arts docents group is titled, "Art is not a thing: it's a way of life." She will talk about her current work as a novelist and how that morphed into being from her roots as a fiber, clay and jewelry artist who reinvented herself into a journalist and book author.
"It's been great fun," Fagen said of her writing during a telephone interview from a writing conference in Hawaii. Her first book published last year is "Fade Out,"
and she also produced a novella "Equalizer" as a prequel to her first full-length novel.
The local Peregrine Book Store has copies of her first book on their shelves, and Fagen said she intends to deliver some of her new ones to the store with hopes of arranging a future book talk and signing, she said.
In June, Fagen said she will be guest speaker at "Desert Dreams 2017" in Scottsdale. That event is sponsored by the Desert Rose Writers' Group, the largest Arizona chapter of the Romance Writers of America.
"The book process has been very interesting. I love doing it," said the multi-talented woman who keeps a full schedule oriented around her new passion. "It's always exciting when the next book comes out, and you get that big box of books in the driveway. It's very thrilling to see – this book with my name on it."
More like this story
SUBMIT FEEDBACK
Click Below to: