Just as great second time around
Women and children shelter's new director familiar face who sees facility as place of hope

By
Nanci Hutson
|
HutsonNanci
Originally Published: April 16, 2017 6:02 a.m.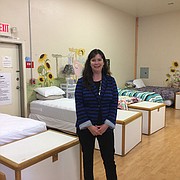 The mother of seven children who grew up as the child of a special education teacher, Carmen Frederic has a heart for helping disadvantaged and disenfranchised mothers raising children against all odds.
She is a believer that all families deserve a home of their own – whether that happens to be a two-bedroom rental apartment or a four-bedroom, single family house with a mortgage.
It is why when the Prescott Area Shelter Services opened its first women and children shelter, the Oregon native who had recently relocated to Prescott applied to lead that effort. She remained as the executive director until 2015 when family considerations required she seek another job.
The shelter Board of Directors hired another executive director, Bobbi Leverich from Austin, Texas, but earlier this year there was yet another leadership change. Shelter founder and board member Lori Deutsch, who is now serving the shelter as a special projects manager, stepped in as the interim executive director while they searched to fill the position on a more permanent basis.
Frederic was available, and eager to once again to be working with an agency whose mission she wholeheartedly endorses. The shelter operates on donations, fundraising and grants; it receives no state or federal dollars.
Deutsch said it was a no-brainer to embrace her expertise.
"I helped hire Carmen originally … I felt she was a good choice then, and she is an awesome choice now," Deutsch said.
Homelessness is a challenge in this region because of the lack of affordable housing, particularly for single parent families who require access to transportation, flexible work hours and day care services.
Part of Frederic's mission is to work with the women who come to the shelter, which has a 90-day limit able to be extended based on a clients' individual needs so that when they leave they are able to attain, and retain, housing of their own. Helping these women find stability at a time of crisis is a key focus, she said.
Frederic "carries the continuity of how the organization was started, and blends with it the new work that is being undertaken," Deutsch said, including a "Wheels to Work" program, increased case management for their clients and the search for transitional housing opportunities.
Frederic, 46, is also a collaborator, willing to work with other local nonprofits that are also committed to assisting low-income and homeless individuals get back on their feet, Deutsch said. The shelter has five regular staff members, including Frederic, and about 100 volunteers who help with overnight coverage, advocacy and daily meal preparation. She said the shelter is now in need of volunteers willing to work with clients between 5 p.m. and 8 p.m.
"She's passionate, she's empathetic and a good listener," Deutsch said. "And she is able to help our guests achieve their goals so they will be successful."
Frederic's career resume is all oriented around nonprofit charities and transitional shelter. And she said she remains eager to be a player with her fellow nonprofit partners in finding answers to the issues of homelessness and affordable housing "we all want to resolve."
In her home state of Oregon, before relocating to Prescott with her husband, Steve, and their children aged 5 to 26, Frederic worked as a case manager for a transitional housing project before she headed up a teen pregnancy shelter that she ran for 10 years. She earned her bachelor's degree in psychology and family studies and, while in college, worked with a family of five children whose mother was in hospice care.
What Frederic said she likes about working at this shelter is that it is a place of hope.
"We give respite out of a crisis; we provide food and showers, and we help make connections and support the clients even after they've moved on," Frederic said.
In its tenure, the shelter has provided assistance to some 1,900 clients; 90 percent of them able to secure permanent housing upon their departure.
Her aim is to continue to be that safe haven where women and their children are able to reclaim their independence.
"We always have our arms open to whoever needs help," she concluded.
More like this story
SUBMIT FEEDBACK
Click Below to:
This Week's Circulars
To view money-saving ads...