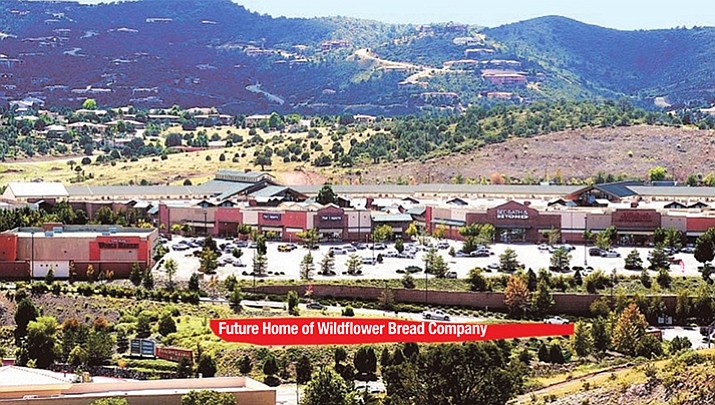 Photo by Les Stukenberg.

Originally Published: April 12, 2017 6 a.m.
Wildflower Bread Company in Prescott is making a move.
It won't be going far, however.
Currently located in the exterior courtyard of the Prescott Gateway Mall, Wildflower has been a popular chain restaurant in Prescott since the company opened the location in 2002.
"We've been in Prescott a long time and really feel like a part of the community," said Darren George, vice president of Real Estate and Development for the company. "We've got a very loyal following of guests who come to our stores often."
In just the past year, however, discussions of visibility and popularity of the mall have been looked at seriously.

"We know that the store that's there is a little tired, and that's partly because of the mall in general," George said.
"Malls across the country aren't quite what they used to be, with the online shopping and everything else. I think that mall specifically — the way it's situated up on the hill like that — you don't really know what's up there, so I think the exposure of the store is part of it. And then the foot traffic at the mall isn't that strong, so we want to be in the general area to not cause an inconvenience for our guests, but also be visible to everybody."
The mall's owners, Tabani Group Inc., apparently had no knowledge of Wildflower's plans to relocate until contacted by The Daily Courier for comment. Despite the lack of notice, the company's marketing coordinator, Theresa Dorlan, said: "Wildflower Bread Company has been a popular fixture and much-valued tenant at Gateway Mall for years, and we wish them great success moving forward."
Wildflower's new location will be on what is currently an empty dirt lot about 200 yards from the current location. The lot overlooks Highway 69 right as one turns onto Gateway Boulevard to get into the mall.

On the slightly more than 1-acre lot, the company will be starting the project completely from scratch.
"It's going to be our first ground-up location," George said.
There will be two other such projects in Arizona opening this year — one in Phoenix and one in Gilbert.

"We're doing completely new designs on all of our new stores," George said. "It's going to be a much more open design, a little more industrial to kind of match the current trends and how people are designing things today."
It will feature a 4,650-square-foot restaurant – slightly larger than the current restaurant — as well as a 735-square-foot patio and a parking lot with 85 spots, George said.
One interesting feature will be an open kitchen. This will allow guests to watch their food being prepared.
"We feel the effort and quality of our food is really top notch, but we don't know if our guests always appreciated how much goes into it, so we're trying to show off a little more on what goes into producing what we produce," George said.
George expects the groundbreaking for the project to be sometime in July and anticipates completion by November or December.
He also said there will be no disruption of service.
"We are going to close the current location simultaneous to opening the new one," he said.
The City of Prescott was also willing to comment, expressing joy that Wildflower is remaining in Prescott.
"We are excited about Wildflower's new investment in the City of Prescott, to build a larger, upgraded store," said John Heiney, community outreach manager for the city. "The Economic Development and Community Development offices are working closely with Wildflower to make sure the permitting and building process goes smoothly in the months ahead."
Related Stories
More like this story