MCSO: Man impersonating deputy arrested
Originally Published: April 11, 2017 6:01 a.m.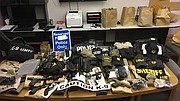 WADDELL, Ariz - A Waddell man who used social media to brag about his exploits as a deputy has been arrested for impersonating a peace officer, the Maricopa County Sheriff's Office said Monday.
According to a MCSO press release, investigators received tips that 40-year-old David Heppler had acted as a sworn deputy. He was arrested March 30 after detectives obtained a warrant to search his West Valley home.
Investigators found a large stash of police uniforms, hats, badges, patches, guns, bulletproof vests, Tasers, radios, scanners, handcuffs, duty belts and other tactical items, according to the press release.
The items were labeled: Police, Sheriff, Border Patrol, U.S. Customs and City of Phoenix Police, authorities said.
Updates on Heppler's Facebook page show a variety of MCSO patrol cars, SWAT vehicles and helicopters, as well as numerous posts bragging about arrests he made, the release said. Investigators said the posts were misleading people into believing Heppler was a sworn peace officer.
According to investigators, in February Heppler confronted two teenagers with accusations that they had a stolen cellphone. He flashed a badge and told them he was an undercover officer. After his arrest, Heppler admitted to threatening the teens with arrest, investigators said.
When Helper requested to be placed on a local homeowner association board, he once again claimed to work as an MCSO deputy.
According to MCSO, Heppler never was a peace officer, but did serve as a member of the volunteer sheriff's posse between 2001-02. He was terminated for impersonating a public servant when he posed as a reserve deputy sheriff.
Maricopa County Sheriff Paul Penzone said in the news release, "Our Posse members do important work for MCSO and for our community. Whenever someone who has been terminated from a Posse continues to act like he or she is part of one, they have committed a criminal act and undermined the good work of all who wear a badge."
Heppler owns a private security company and had expired security guard licenses when he was arrested, MCSO said.
Heppler was released on bond pending additional court appearances. He faces two felony counts of impersonating a police officer.
Anyone with information regarding this case can call MCSO at (602) 876-1011.
More like this story
SUBMIT FEEDBACK
Click Below to: