Tallest home a hard sell in Prescott
One of world's tallest single-family residences, located in Prescott, for sale, again — at lower price

By
Max Efrein
|
mefrein
Originally Published: April 8, 2017 6:02 a.m.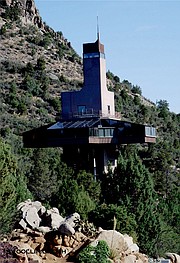 "Falcon Nest" has been relisted for sale.
Standing 124 feet on only a 24-by-24 foundation, the Prescott home is considered one of the tallest single-family residences in the world.
The unique structure first went up for sale about two years ago for $2.8 million. It has now been listed with a different real estate firm and the price tag has dropped to $1.5 million.
"The price has been reduced drastically because I want this thing to be sold as quickly as possible," said owner Sukumar Pal, who spent about $3.5 million building it.
An architect by trade, Pal gradually designed the 6,200-square-foot house over a period of about 40 years with several primary components in mind.
One was to create a substantial view, which is also why the home dwells on the slopes of Thumb Butte.
Another was to create a chimney effect, utilizing passive solar for winter heat and convective cooling during the hot summer months.
While the building has 10 floors, Prescott city code at the time it was built (1994) permitted Pal to classify it as a three-story home.
He surveyed about 200 sites throughout Arizona before finding Prescott to be the most lenient on a home's height restriction. The rules have since changed — because of the home; however, Pal has filed and been granted a number of exemptions to keep the home as is.
For instance, the bottom two floors qualify as a basement and subbasement and most of the other floors are considered part of the natural heating and cooling system. Only three of the floors are classified as livable spaces.
Marketing the home for Pal is Russ Lyon Sotheby's International Realty. Frank Aazami, the listing agent, said they have been promoting the home all around the world.
"You can't reproduce it," Aazami said. "I mean I don't know if anyone can go to court and get the approval to build a house like this again."
To expedite the sale, Pal is considering putting the home up for auction, which Aazami believes may be the best option.
"It's like a piece of art," Aazami said. "It really makes sense for somebody to say 'I'm going to give everybody a paddle to bid remotely, wherever they are, for the highest and best number. We are really, really considering that."

Pal believes it may sell for more than the current listing price if sold this way, but understands it could be sold for less.
"We would be taking a risk," Pal said.
So far, however, the current marketing strategy is showing promise.
"We are thinking positively," Pal said. "We started the second phase of selling only a couple weeks ago and are getting a good response."
Height concerns
Building height as a concern first came to the forefront in the city when Pal submitted plans to build his multi-level home near Thumb Butte. The project, according to Courier archives, led to a round of restriction changes.
In 1997, the city re-evaluated its height restrictions after residents complained about the appearance of the many homes in the community that stand on stilts. The question, at the time, was at what part of the hill should the city measure the 35-foot height limit.
Another review of building heights continued in 2000, with supporters of the variance contending that if you own property, you have the right to build whatever you want, however you want.
The city's height restrictions continue today, and Pal's home is — for all intents and purposes — grandfathered, city officials concluded.
Click here to see photo gallery
Click here to see virtual tour
Falcon Nest is located at 2365 Skyline Drive in Prescott, Arizona.
More like this story
SUBMIT FEEDBACK
Click Below to:
This Week's Circulars
To view money-saving ads...