Officer strikes suspect with patrol car to stop shootout
Incident began with man trespassing in PV park
Originally Published: April 7, 2017 6:01 a.m.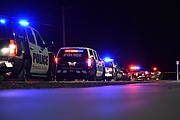 Police officers on a routine foot patrol in a closed park found themselves in a shootout late Wednesday night in Prescott Valley.
The Prescott Valley police officers were patrolling the north side of Mountain Valley Park around 11 p.m. April 5 when they saw a man walking near the skate park.
According to police, the officers approached the man to conduct a trespassing investigation because the park had closed at 10 p.m.
When the officers directed him to stop, the man brandished a handgun and starting shooting at the officers. The officers notified police dispatch and called for backup.
The suspect proceeded northbound across the 8400 block of Loos Drive and continued to shoot in the direction of officers. A PVPD officer then returned fire, shooting several rounds at the suspect.
As the suspect proceeded northbound onto Katie Circle West another responding police officer arrived on scene in a marked police vehicle.
The officer in the patrol car spotted the suspect, who continued to display the weapon. The suspect then turned and fired on the officer in the police vehicle.
The officer in the patrol car made the decision to strike the suspect with the vehicle. Police then were able to take the man into custody.
The Central Arizona Fire and Medical Authority responded to the scene and treated the suspect, who was then transported to Yavapai Regional Medical Center in Prescott Valley. The man was later moved to a Phoenix area hospital where he is being treated for serious but non life-threatening injuries.
According to Sgt. Jason Kaufman of PVPD, no officers sustained serious injuries.
The suspect is a 33-year-old white male Prescott Valley resident known to local law enforcement.
The investigation is ongoing. The names of the suspect and officers involved have not been released at the request of the Arizona Department of Public Safety, which is investigating the incident. A list of possible charges has also not been released.
Witnesses are encouraged to contact Sgt. Jason Kaufman at 928-772-5120 or Prescott Valley Police Dispatch at 928-772-9267.
Related Stories
More like this story
SUBMIT FEEDBACK
Click Below to: