Scandalous Hands taking Prescott by storm

By
Max Efrein
|
mefrein
Originally Published: April 6, 2017 9:21 p.m.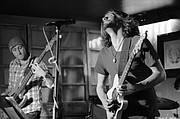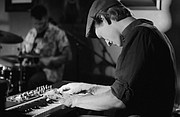 Forming a functional band isn't so easy.
Fortunately for guitarist Adam Haar, bassist Dennis Messenger and keyboardist Troy Schilperoort, the three musicians knew they jived well after about a year of playing on-and-off together for various musical projects.
"After a while we started realizing we really had something together," Schilperoort said. "We had a musical connection between the three of us."
In October 2016, they became emboldened to start their own group and were quickly offered an opportunity to test it out at The Big Easy Bar in Prescott for a Halloween event.
The gig went well, but it wasn't until January that they officially locked in their fourth and final bandmate, drummer Shawnee Snaketail.
"[Shawnee] has an incredibly strong jazz background," Schilperoort said. "There are not many drummers in the area, let alone northern Arizona, that can do some of the things that he does, and we didn't even know about him until this last December when it just sort of came up in conversation."
To decide their band's name, they clicked into a random word generator online and told the program to give them a two-word phrase consisting of an adjective and noun.
"About the third thing that popped out was 'scandalous hands' and we thought it was hilarious and perfect," Schilperoort said.
For the past six weeks, Scandalous Hands has been playing at venues such as The Birdcage, Raven Café and Far From Folsom.
Like many bands, categorizing their sound into one specific genre is like having to pick a favorite child.
"At first, we were conceiving it as a funk/soul band," Schilperoort said. "We definitely still have those influences, but it's getting harder to pin down what we are."
Above all, they try to provide rhythms people can dance to, he said.
"Definitely the funk/soul element comes in there," Schilperoort said. "It's hard to not dance sometimes if it's really funky."
This is just one of the many reasons why Debi Stamm, owner of The Birdcage, has hosted the band several times already and plans to host them again on Sunday, April 23.
"What a dynamic group of young men," Stamm said. "They're all talent."
She is particularly taken aback by the front man.
"To watch Adam is just nirvana," she said.
Almost all of the band's songs at the moment are covers, but none are carbon copies of the originals.
"We're doing those covers in a way that they've never been played before, or at least that are very rarely done," Schilperoort said.
This ranges from songs by Led Zeppelin to Chick Corea.
The band expects to start putting out its own content soon.
"I think our goal is to have half our material be original by maybe the end of the year," Schilperoort said.
Scandalous Hands' next performance will be at Far From Folsom on Sunday, April 16, at 2 p.m.
However, the performance at The Birdcage on Sunday, April 23, at 3 p.m. will be unique. It will serve as a fundraiser to help the band jumpstart a recording project. The event will feature music to dance to, a preview of what to expect from the recording and a raffle, with items being donated by several local businesses.
To keep up with the band, visit their Facebook page.
More like this story
SUBMIT FEEDBACK
Click Below to:
This Week's Circulars
To view money-saving ads...