People & Places: Hobby began as classic cars instead of a paycheck
Originally Published: April 5, 2017 6:02 a.m.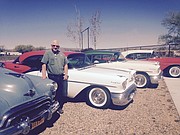 Car collectors are passionate about the vehicles they collect. Some are interested in modern cars; others in antique vehicles; and some collectors only tow the cars to shows to display them. Dan Flanigan of Chino Valley said he drives many of his vehicles to car shows and across country.
"I do drive my cars. Last year my wife Jacki and I put approximately 5,000 miles on my '57 Chevy. On nice days I try to drive each of them for a short spin," Flanigan said.
"My dad and I were collecting cars when I was 10 years old. My dad collected classic cars, and really anything that was rusty and dusty we bought and at one time we had 150 cars," he said.
Flanigan grew up in the small town of Chowchilla, California, where he and his dad were both almond farmers.
"In 1988 I bought my first classic car, a 1957 Chevy. While I was in school, I had a 1940 Ford Coupe, a 1940 Buick Coupe, a 1940 Packard Limo, and a 1929 Model A Ford Pickup. Whichever one happened to start up each day is the one I drove to school. Since I worked on the farm with my dad, he said we would collect cars together, and they would be my paycheck, so when he passed away the collection came to me," Flanigan said.
After retiring Flanigan and wife Jacki moved to Chino Valley last year.
"I have never lived anywhere but Chowchilla, so we moved here for the small town atmosphere, and the car culture here in Arizona is every bit as good as it is in California," he said.
Flanigan shared that his favorite car in his collection is his 1949 Oldsmobile 98, two door, fastback which he bought from the original owner.
"I'm pretty much an Olds guy now, but I do still have the two Fords I had in high school, my latest addition to my collection is a 1953 Buick Skylark from Pennsylvania, which caught my interest because there were so few of them made," Flanigan said.
He said he and Jacki both enjoy cruising in these cars and going to car shows.
"She even helps prepare the cars for the shows, she is a full partner in the hobby," Flanigan said.
"I enjoy the hobby of collecting classic cars, because I like the historic use of the car, but I really enjoy the people who also participate in the hobby."
Flanigan is a member of the Chino Valley Cruisers, which will be having their Cruise Nights in the McDonald's parking lot on the first Friday night of each month, which gives people a chance to see and admire these classic cars up close, including Flanigan's.
More like this story
SUBMIT FEEDBACK
Click Below to: