Prescott Gateway Mall on the auction block
Minimum bid starting at $3.5 million

By
Nanci Hutson
|
HutsonNanci
Originally Published: April 4, 2017 6:01 a.m.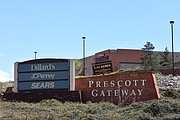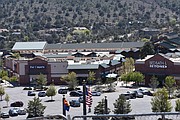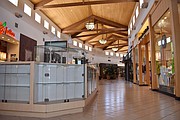 The Prescott Gateway Mall is on the auction block, with Wednesday the final business day for bids, according to local and national real estate brokers.
The potential sale leaves many in the community, including store owners and customers, pondering the fate of the long-struggling retail center on Highway 69 that is sandwiched between the Frontier Village center and the Crossroads shopping center in Prescott Valley.
"This is a very big story for Prescott," said Donald Teel, a local commercial retail space expert and principal with Commercial Properties Northern Arizona in Prescott.
The mall was initially built in 2002, and in 2013 was purchased by the Tabani Group headquartered in Dallas, Texas, for $16.3 million.
The Yavapai County Assessor's Office records as of Monday still reflect Tabani as the owner of the mall. Efforts to reach Tabani representatives on Monday for comment were not successful.
The auction sale is for the mall's 318,500 square-feet minus the anchor stores — Sears, JCPenney and Dillard's — that own their individual spaces, totaling about 200,000 additional square feet of space.
JCPenney's national offices recently announced that it was closing 138 of its stores across the country, but Prescott's store is slated to be spared.
Auction Closes 5 p.m. Wednesday
The online retail auction for the mall's property opened on Monday and will close on Wednesday at 5 p.m. Auction information is available at www.Ten-X.com and www.LoopNet.com.
Direct link to LoopNet listing
The starting bid for the property is $3.5 million, with at least a $25,000 deposit and credit clearances to assure that the buyers can meet the financial requirements for such a sale, Teel said.
News of the auction was kept quiet until last week, according to Teel and mall store owners who asked not be named.
When asked about the auction sale on Monday, mall Manager Kaela Seisinger said only that she did not think this was a matter she was able to talk about at this time. She said she would contact the owners, but as of deadline no one had returned any calls related to the sale.
The auction sale is being handled through the New York City firm of Newmark Grubb Knight Frank. An official representing the firm confirmed the listing, but did not have information on bidders or any other information related to why the property was put up for auction.
Goliath Commercial Real Estate Owner David Parker, who is not involved with the auction or sale, said the most common reasons for an auction sale would be if the owners are attempting to find a potential buyer; if the property is in either Chapter 11 or Chapter 7 bankruptcy or if the property is in foreclosure. The precise details of this deal were unable to be ascertained on Monday.
"For sure, if Tabani wanted to operate it, it wouldn't be on the auction block," Teel said.
Teel could not say if he has any investment or development clients interested in a purchase, but with his expertise in commercial retail space in the region he has access to listing criteria known to few others.
In past years, Teel handled leasing of spaces for both the mall and the Frontier Village shopping center; Teel assisted in brokering the deal that allowed the Yavapai-Prescott Indian Tribe to assume control of the Frontier Village in 2012. He is now active in the sale of the Prescott Unified School District buildings.
From the mall listing materials to which he has access, Teel said the mall is now at 67.1 percent occupancy and has a net operating income of $1.732 million.
The starting bid set for this property "is quite low" given potential development value, Teel said. He suspects the mall will sell somewhere between $10 and $14 million; he is quite certain it will sell.
What a prospective buyer will want to do with the mall is something he is not quite certain as this area is oversaturated with more than 700,000 to 800,000 excess retail square footage, Teel said. With the advent of online shopping and marketing, the trend today for retail is "smaller, smaller, smaller," he said.
Teel said he could envision the mall property being transformed into a possible annex for one of the state universities.
"It is a beautiful mall, no question about it," Teel said of the property that has always been well-maintained and landscaped.
Mall Future Unclear
One mall tenant for the last two years said he fears what this means for him and for other mall businesses that have tried to remain loyal despite the challenges of reduced consumer traffic and sales. In his mind, the mall's success will depend on a new model that would make it more of a community draw than it is today, including special events and attractions offered nowhere else.
"We're pretty stressed about it," said the tenant who asked not to be identified. "Hopefully the new owners, whoever that might be, won't just kick everybody out. That would be suicide for them.
"But I don't know what the ultimate plan will be."
Customer Gary Kerans of Prescott said he witnessed the initial owners "blow the top of the mountain off to build this mall" only to see it lose businesses because of high rents and tough economic times.
Ed and Jo Berger of Prescott went to the mall on Monday for exercise, and commented to each other how "discouraging" it is to see all the empty stores.
She said over the years they've watched some move to other locations because rents were lower and customer traffic higher. "It's a shame to think about what it could have been, and what it was when it originally opened," Ed Berger said. "It was so robust. We keep looking for the economy to return. We haven't seen it. I think it's actually gotten worse."
Teel said he is saddened, but not surprised.
"None of this surprised Donald Teel," he said. "Traffic in the mall has been very, very short.
"But I hope we get a new buyer, and I hope they are able to do something that will add jobs, vibrancy and benefit the economy."
Related Stories
More like this story
SUBMIT FEEDBACK
Click Below to: