Originally Published: April 4, 2017 6:01 a.m.
U.S. Navy pilot Captain Charles Plumb was flying over Vietnam at 690 mph when a missile hit his F4 Phantom jet.
He ejected. At that extreme speed, three panels on his parachute ripped away. But the other 15 caught air and saved his life.
It was May 19, 1967. Plumb was on his 75th combat mission and scheduled to go home in five days.
He was captured and held for six years in a communist Vietnamese prison.
Chance Meeting
One day, after the war, while Plumb and his wife were sitting in a restaurant in Kansas City, a man two tables away kept looking at him.
Plumb shared what happened next:
I didn't recognize him. A few minutes into our meal he stood up and walked over to my table, looked down at me and said, "You're Captain Plumb."
I looked up and I said, "Yes sir, I'm Captain Plumb."
He said, "You flew jet fighters in Vietnam. You were on the aircraft carrier Kitty Hawk. You were shot down. You parachuted into enemy hands and spent six years as a prisoner of war."
I said, "How in the world did you know all that?"
He replied, "Because, I packed your parachute."
Captain Plumb was speechless. He staggered to his feet and the two men shook hands. The man said, "I guess it worked."
"Yes sir, indeed it did," Plumb replied. "And I must tell you, I've said a lot of prayers of thanks for your nimble fingers, but I never thought I'd have the opportunity to express my gratitude in person."
Plumb couldn't sleep that night, thinking about that man. He later wrote:
"I wondered how many times I might have passed him on board the Kitty Hawk. I wondered how many times I might have seen him and not even said 'Good Morning,' ...or anything because, you see, I was a fighter pilot and he was just a sailor. How many hours did he spend on that long wooden table in the bowels of that ship weaving the shrouds and folding the silks of those chutes? I could have cared less...until one day my parachute came along and he packed it for me."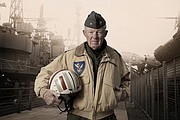 Now, many years later when Plumb is asked to speak about his experiences, he asks his audiences, "Who's packing your parachute?"
He explains, "Who are the special people in your life who provide you the encouragement you need when the chips are down?"
And perhaps more importantly, Plumb asks, "How's your parachute packing coming along?"
Acknowledge with Kind Words
Research tells us a person's mind takes 48 percent longer to understand a negative statement than a positive one.
In my life I have found that people try to live up to the praise and gratitude they are given. Unfortunately, people sometimes live down to the destructive, negative words they receive.
A man I respect shared this wise advice, "Stresses in our lives come regardless of our circumstances. We must deal with them the best we can. But we should not let them get in the way of what is most important — and what is most important almost always involves the people around us."
American best-selling author Barbara Johnson once said, "Never let a problem to be solved become more important than a person to be loved."
There is uplifting power in kind words and a sincere compliment.
Comforting light can be borrowed from a single smile. The tone of someone's day can be improved when a simple "Good Morning" is offered.
We will never regret kind words spoken or compliments shared with others — be they friend, family or stranger.
May we strive to use kind words and pack parachutes for someone every day. Such words may even be life-saving for some.
Thank you, Captain Plumb, for your service and for sharing your experiences. Learn more at charlieplumb.com.
---
---
Richard Haddad is Director of News and Digital Content for Western News&Info, Inc., the parent company of The Daily Courier. This column was originally posted as a blog entry on dCourier.com.
More like this story
SUBMIT FEEDBACK
Click Below to:
This Week's Circulars
To view money-saving ads...