Departure of three key economic development leaders leaves a vacuum

By
Max Efrein
|
mefrein
Originally Published: April 2, 2017 6:02 a.m.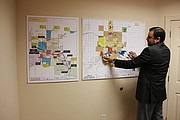 Economic development in the Quad-Cities is currently in an unusual position regarding leadership.
In late October, 2016, the Greater Prescott Regional Economic Partnership lost its executive director, Richard Heath, as he went on to become the executive director of Northern Arizona University's Prescott Valley campus. That position has yet to be filled.
At the turn of the year, the director of economic initiatives for the City of Prescott, Jeff Burt, resigned. The city is currently figuring out how to divvy up the responsibilities of that role without hiring another director for that department.
And just last month, Yavapai College's Regional Economic Development director accepted an opportunity to work elsewhere that she couldn't refuse. The college has just begun searching for a replacement.
This leaves very few economic development coordinators at the helm.

"I personally think we're almost in a holding stall pattern," said Dee Skipton, Goodwill Prescott Career Center Supervisor.
Given the current circumstances, two questions come to mind: How significant is it to fill such positions and is there a particular direction the potential new influx of economic leaders should take if and when they arrive.
The first is simpler to answer than the latter. Most agree that economic development is essential to a region.
"To keep a good, viable, economic base, we need to promote the business side of things," said Mike Fann, who has literally help build much of Prescott through his company, Fann Contracting. "If we don't keep up with bringing new dollars into the community, we're really going to have a hard time providing the services to support it. I don't just mean the public services, I mean healthcare, I mean education; it's all connected."
It is also recognized that personnel devoted to the mission of economic development are tremendously helpful for formulating and executing development plans.
"The development is going to come whether you have people in place or not because there is money to be made here," said Ben Hooper, Economic Development Coordinator for the Town of Prescott. "The job of an economic developer is to help facilitate and guide the development."
The second question — what direction the region's economic development should take — is slightly more complex.

Prescott Valley is quite organized in this regard. The town takes a three-legged stool approach. Supporting one leg is the municipality's administration, whose economic development coordinator focuses on attracting retail businesses to the town. Supporting another leg is the Prescott Valley Economic Development Foundation (PVEDF), which focuses on industrial development and bringing more core base jobs into the town. The final leg is the Prescott Valley Chamber of Commerce, which focuses on keeping and supporting the existing businesses in the town.
Prescott is not so departmentalized. There is a Chamber of Commerce, but there is no equivalent to PVEDF and the city is in the midst of finalizing how the economic development division will continue to operate without hiring on a new director.
"Even with changes in our economic development staffing recently, Prescott's Economic Development efforts have continued at a strong pace," said Michael Lamar, manager for the City of Prescott. "This city and region have a great deal of assets and much to offer employers who want to provide their employees with a high quality of life."
Ken Mabarak, who is currently working to recruit retailers to fill 11-and-a-half acres of commercial property at the intersection of Willow Creek and Willow Lake Roads, agrees Prescott has much to offer, but believes its focus needs to shift if economic development is going to succeed.
"I don't know if I know what the absolute solution for Prescott is and whether I'd model it after what Prescott Valley has done, only because they came from a different position… but I know all of it starts with a progressive mentality; to be receptive to how do we make our community sustainable for the future," Mabarak said. "And the way you do that is through jobs with younger people and not just attract retirees to your community. That is the key."
The City of Prescott is looking into this matter by partnering with local higher education institutions such as Embry-Riddle Aeronautical University. The hope is to figure out a way to keep the local school talent in the local workforce.
To assist with this, the city has decided to hire an external business development consultant named James Robb, who will focus on developing a regional cyber security presence.
"Jim Robb's experience working directly with key stakeholders in the technology and cyber-security industry make him an excellent choice to spearhead Prescott's efforts to capitalize on our already strong partnerships with ERAU and the technology industry," Lamar said.
More like this story
SUBMIT FEEDBACK
Click Below to: