Condo complex touted as promoting town's walkability
By
Cindy Barks
|
Cindy_Barks
Originally Published: September 30, 2016 6:40 a.m.
PRESCOTT — In keeping with its support for more home development in the downtown area, the Prescott Planning and Zoning Commission this week endorsed a seven-unit condominium project on Granite Street.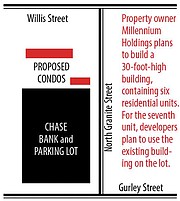 Commissioners unanimously recommended approval Thursday, Sept. 29, of the Quantum Condominium project, which is planned on a quarter-acre lot at 130 N. Granite St., just north of the downtown Chase Bank.
The commission's recommendation will now go to the Prescott City Council, which will make the final decision at a future meeting – possibly in October.
Property owner Millennium Holdings plans to build a 30-foot-high building, containing six residential units. For the seventh unit, developers plan to use the existing building on the lot.
Community Planner Frank Hall told the commission that parking would be located underneath the new building. The project plans a total of 17 parking spaces, he said, which is two more than is required by the city.
Although the condo plans were discussed at the same meeting as a Downtown Business District code amendment that aims to encourage more downtown residential development, Hall said the Quantum project is not contingent on that proposed change.
"This project meets the (existing) density and zoning requirements," Hall said. "This is one of the few that's actually big enough to do that; it meets the code."
The project elicited positive comments from the commission, as well from as the audience.
Local resident Dava Hoffman told the commission: "I do encourage all the residential uses you can bring into the downtown area."
Hoffman emphasized that aging baby boomers, as well as young millennials, would benefit from homes that are located close to businesses and services.
"The millennials like to live where they can walk to everywhere," she said. "We need to encourage them to move into our community. I encourage you to support condominiums and other uses within walking distance to the downtown."
Developer spokesman Michael Haywood also referred to the benefit of having homes near services.
"We're taking vehicles off the street; people can walk to the restaurants, walk to the bars," Haywood said. "We see it as a real positive to the downtown area."
Commissioner Phil Goode voiced his support as well. "As far as supporting some higher density development in an appropriate manner, I think this development does meet those standards, and is appropriate under the general plan, and should be encouraged.
Added Commissioner Ken Mabarak: "I think it's a great in-fill project for the downtown."
The Prescott City Council's Water Committee earlier recommended that Quantum receive a water allocation of 1.75 acre-feet – the amount necessary for seven multi-family units.
More like this story
SUBMIT FEEDBACK
Click Below to:
This Week's Circulars
To view money-saving ads...