Prescott Valley family patriarch, Bill Fain, 78, dies
'Bill Fain, along with John Wayne, had true grit'

Originally Published: September 25, 2016 6:01 a.m.
Known as a man of his word – and for his generosity, work ethic and foresight – Bill Fain's handshake was all anyone needed to seal a business deal.
The most important man in Prescott Valley history, according to Lew Rees, former Fain Signature Group executive director, died Aug. 27, 2016.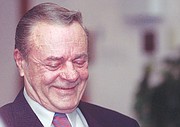 "He had the brains, the fortitude, the work ethic and the strength to put together a community. His handprint is on every aspect of Prescott Valley and, indeed, the entire quad-city area," Rees said this past month after learning of Fain's death.
Norman William Fain II was born Jan. 20, 1938, and grew up on the family ranch, Rafter Eleven, in Dewey. A third-generation Arizonan, Bill graduated Prescott High School and University of Arizona. He married Nancy Lee Williams in 1960 and they had four children.
The Fain family still ranch, but they are now known more for their land and business development and for their contributions to Prescott Valley (PV).
"Bill was a very private person. He never wanted the accolades. But the reality was, Bill Fain was one of the most generous people I ever had the pleasure to work with and work for," Rees said. Rees worked closely with the Fain Signature Group during the 10 years he was chief executive officer of the Prescott Valley Chamber of Commerce before the Fains hired him. "He gave – when someone would knock on his door – nine times out of 10, they would walk out with a check."
Bill Fain was instrumental in donating land to Prescott Valley for many town projects and ventures. In fact, the Fain family has made contributions to the community since William and Cary Fain arrived in Arizona in 1874.
Among these gifts of land are:
• One section (1 square mile) for the airport near Prescott.
• 100 acres for Fain Lake and Park.
• 45 acres for the ACE Hardware Distribution Center.
• 65 acres for Bradshaw Mountain High School.
• 20 acres for the PV Civic Center, Library and Police Station.
• Land for a Veterans of Foreign Wars Post.
• 4.5 acres for a police shooting range.
• Gift/donation to the Yavapai Regional Medical Center East Campus.
• Use of property for the PV Community Gardens and the radio-operated racetrack.
PV Town Manager Larry Tarkowski worked closely with Fain for the past 27 years. He said Fain was a "great individual."
"He was certainly old school. You could walk out of a meeting with Bill knowing exactly what the deal points were, and with a shake of the hand you would move forward. With his passing, there is a certain element of trust and wisdom that will be hard to replace," Tarkowski said.
Rees said Fain also generated immense respect and love from family members. "You could tell. It was there."
Bill Fain leaves behind his wife, Nancy, of 56 years, and children Norman (Karen) Fain, Dawn (Jeff) Wasowicz, Ron (Darlene) Fain, Brad (Michelle) Fain, and nine grandchildren.
About eight years ago, the family started planning for business leadership changes to structure the family businesses for the future. This plan included Ron Fain as president of the Fain Land and Cattle Company; Brad Fain as president of the development entities, Fain Signature Group and related entities; and Jeff Wasowicz as head of property management and tenant relations.
"He was a man's man. This was a rugged rancher to start out with, working morning to evening building a ranch, a family, Prescott Valley," Rees said. "It takes people with grit. Bill Fain, to me, along with John Wayne, had true grit. He was one in a million, and a true community builder."
More like this story
SUBMIT FEEDBACK
Click Below to: