John Coleman brings mythology of American West to life
Shea Stanfield, Special to Kudos
Originally Published: September 22, 2016 11:44 p.m.
We will be known forever by the tracks we leave." Dakota Sioux The history, legend, and myth of the American West are single strands woven to form a uniquely durable rope lassoing the period between 1830-1912 into our collective American consciousness. The "mythology" of this unique and troubled period springs to life today in the paintings and bronze sculptures of Prescott artist, John Coleman. John's creations envision a wild interpretive story in accurate and stunning detail. Here, the lives of our Native American ancestry come to form as vividly as our brilliant western horizons.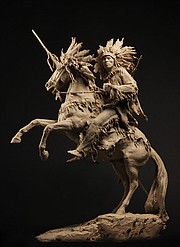 The granite foundation beneath John's award-winning body of work is the dedicated and determined study of American history and art, a path he strayed upon during his high school years. Seldom the focused student of the academics during that time, John was a hard worker, highly adaptable, and a quick study of all subjects capturing his interest and imagination. In fact, it was his high school art teacher that recognized his exceptional gift for detailed illustrative renderings and encouraged John's artistic pursuits. John took the encouragement to heart and landed a job as an illustrator, soon after leaving school, for a hair stylist in California who had a syndicated column. This brought him to the notice of Butler Publications, which hired him as a technical illustrator for the company. By age 19, John married Sue, his high school sweetheart and the two of them went on to develop a successful construction and real estate business in Parker and Prescott, Arizona. As they saw it, "a practical matter of making a living, while raising their family."
John and Sue's hard work paid off; by 1994, with their children well on their way, and resources from their business John turned his attention to rediscovering, once again, his "purpose" in making art. At the time, John thought he would be returning to the world of an illustrator, but the "Great Spirit" had other plans. Always the observer and a curious student, John saw a television program where an artist was making wall sculptures. He figured sculpture was something he could do as well, but his focus would be Native American images to tell a unique and compelling story. Not long after John was in the foundry with his first creations, breathing life into the history myth, and legend of the first "Americans" of the West.
Ten years from the day John picked up his artistic journey, the late, Ray Swanson, Cowboy Artist and past Cowboy Artists of America President, visited John's studio in Prescott. John had already made a name for himself, as a sculptor, represented by Legacy Gallery in Scottsdale, Arizona and Jackson Hole, Wyoming and as a member of the National Sculpture Society of New York City (where he is now a Fellow Member). Ray called John's hand and raised him one, encouraging him to apply to the Cowboy Artists of America. This was an enormous honor, even more so when John was accepted into C.A.A. on the "first ballot" in 2001.
Today, John Coleman is one of our foremost "image makers" of the American West. His work is collected both nationally and internationally. In 2012, John won the Anne Marion Best of Show Award and Gold Medal Award for sculpture for 1876, Gall, Sitting Bull, Crazy Horse. At the 2013 Cowboy Artists of America Show, John earned a Silver Medal for Drawing and Other Media. (Yes, John has never left his illustrator roots; he works in charcoal, graphite, and oils as well). He is especially proud to have received the James Earle Fraser Sculpture Award and the Jackie L. Coles Buyers' Choice Award for his monumental sculpture, Honeymoon at Crow Fair, which was purchased by the National Cowboy & Western Heritage Museum in Oklahoma City, Oklahoma, for its permanent collection. This work can also be seen in the lobby of the Western Spirit: Scottsdale's Museum of the West. John's work Visions of Change is in permanent collection at the Tucson Museum of Art and his piece Addih-Hiddisch, Hidatsa Chief is in permanent collection for the Phoenix Art Museum.
In September 2016, Scottsdale's Museum of the West hosts John Coleman: Past/Present/Future. The exhibit, opening Sept. 17, is an unparalleled opportunity to examine the career of John Coleman the painter, sculptor and influential teacher. Works include creations in charcoal, graphite, oil and bronze, as well as works in progress. You are invited to step into the midst of the magic and myth evoked by this comprehensive collection. For more information on the exhibit, visit www.scottsdalemuseumwest.org or follow John Coleman's work and exhibit schedule on his website at www.colemanstudios.com.
By Shea Stanfield. Contact her at flowingquill@yahoo.com.
More like this story
SUBMIT FEEDBACK
Click Below to:
This Week's Circulars
To view money-saving ads...