Chew on This: The Barley Hound doesn't trim the fat

By
Max Efrein
|
mefrein
Originally Published: September 22, 2016 11:38 p.m.
The Barley Hound is a true gastropub.
The term, meaning a pub that specializes in serving high-quality food, was only first coined in 1991 and took some time to catch on.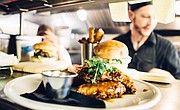 In recent years, however, the trend has rapidly spread, ingraining itself in major cities throughout the world.
Skyler Reeves, owner of The Barley Hound, saw the rise of gastropubs while working in the Los Angeles bar scene for a decade, and in May, 2015, decided he'd bring the traditional sense of the concept to Prescott — where he has family ties.
"A lot of pub food has a peasant background," Reeves said.
ESSENTIALS
Who: The Barley Hound
Where: 234 S. Cortez St., Prescott
Contact: 928-237-4506
Online: TheBarleyHound.com
Working from this standpoint, he and Harley Ray Guy, a local chef, devised a classy menu that features ingredients only the poor were once known for eating.

"We wanted to take things like liver and shortbreads and create creative, delicious dishes out of them," Reeves said.
Thus, items like Chicken Liver Smear ($7), House Fried Pork Rinds ($5) and Duck Fat Fries ($3/$6) are prominently displayed on the menu.
Of course, there are more ordinary menu items as well, like Shark Tacos ($10), Lamb Brat Burger ($13) and Citrus Osso Bucco ($22) — braised pork shank, turnip puree, collard greens, house cured bacon, fried shallots, pickled fennel, braising reduction.
The food goes hand-in-hand with what Reeves originally intended to introduce the Prescott audience to.

"I wanted to create a restaurant that was unlike anything else in Prescott," he said. "An atmosphere and vibe that people like myself like to go to. Not necessarily one that just appeals to young people, but more reminiscent of a big city."
To go with that vibe is an extensive selection of craft cocktails, wine, beer and spirits.
"We take pride in how we make our drinks," Reeves said.
This means fresh squeezed juice for the cocktails every day, no artificial ingredients and even specialty ice.
"We use nice large ice cubes," he said. "There's less surface area per volume of ice, so there's a more controlled dilution. You want the drink to dilute some, but not nearly as quickly as the small, thin cubes you find most places do."
Though Reeves assures The Barley Hound will continue doing what it is known for, he said Guy will be leaving the restaurant as of this weekend, Sept. 24 and 25.
"He just wants a new challenge," Reeves said. "He has been an integral part, but is certainly not the only part of The Barley Hound."
Taking Guy's place at least temporarily is Reeves's good friend Zach Teschner.
Teschner has been working as a private chef in Los Angeles for the last two years.
Before that, he worked at Wolfgang Puck restaurants Spago and Cut in Beverly Hills, California, for 14 years.
His current position as a private chef for an anonymous client allows him a five-month vacation every year, which he has been using to do restaurant consulting.
The Barley Hound is the smallest restaurant he's consulted for.
"Skyler has been my best friend for 20 years," Teschner said.
Teschner doesn't intend to make any significant changes to the menu, at least at first.
Once he gets the feel for what Prescott residents enjoy eating, he said he'll likely start incorporating some additional high-end comfort food and maybe a little bit of his specialty: world cuisine.

"Change is good," Teschner said. "I'm very excited to bring an outside influence."
SUBMIT FEEDBACK
Click Below to:
More like this story