By
Doug Cook
|
dougout_dc
Originally Published: September 21, 2016 6:02 a.m.
PRESCOTT VALLEY – Bradshaw Mountain High's volleyball team lost its fourth consecutive power-point match on Tuesday, Sept. 20, falling to Mingus Union, 3-1, in a Grand Canyon Region match at Gary Kunow Gym.
Photo Gallery
BMHS vs Mingus Volleyball 092016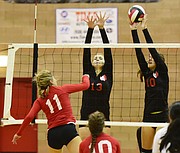 The 4A Conference Bears had defeated the Marauders, 3-2, in their first league clash Aug. 30 in Cottonwood.
Bradshaw, which owns a 3-4 overall record and a 1-2 mark in region, will play host to Flagstaff Coconino (3-3, 1-1) for another region match at 6 p.m. Thursday, Sept. 22.
Prescott 3 Coconino 1 (Sept. 20)
FLAGSTAFF – Prescott High's volleyball team stayed unbeaten at 6-0 in power-point matches after winning this Grand Canyon Region showdown in four games over Coconino on Tuesday, Sept. 20.
Abbey Smith led the Badgers' attack with 14 kills and five service aces. She also had a team-best 19 digs. Ashlynn Uvila (nine kills, seven digs), Erinn Marroquin (three kills, 18 assists, 11 digs) and Kella Wright (14 assists) aided in the effort. Danny Dreher (four blocks) and Keiana Vicente (three blocks) stood out defensively at the net.
The Badgers, who sit atop the region at 3-0, will continue on in league play at 6 p.m. Thursday, Sept. 22, when they visit Mingus Union in Cottonwood.
COLLEGE SOCCER Yavapai-AZ Western match
postponed by rain (Sept. 20)
PRESCOTT – Due to unplayable and dangerous field conditions caused by soaking rains, the Yavapai College-Arizona Western College soccer match scheduled for Sept. 20 at Ken Lindley Field was postponed.
An announcement on a make-up date will be made soon, Roughriders coach Mike Pantalione said.
The next match for Yavapai (7-1-1 overall record, 6-1-1 Arizona Conference) will be played at 1 p.m. Thursday, Sept. 22, at Scottsdale Community College.
The Roughriders will return home on Saturday, Sept. 24, versus Chandler-Gilbert Community College at Mountain Valley Park Amphitheater in Prescott Valley. Kickoff is slated for 6 p.m.
PREP X-COUNTRY Chino Valley girls place 3rd
at Valley Christian (Sept. 20)
TEMPE – Chino Valley High's girls' cross-country team placed third out of 22 squads at the Valley Christian Invitational Sept. 20.
Running on a dry and cloudy afternoon in the Valley, Becca Tupper led the Cougars, finishing 11th in 22 minutes and 4 seconds. Rosio Aguiar (17th, 22:52) and Lizzy Tupper (25th, 23:25) also ran well.
The Cougars compiled 117 points, trailing only winner Arizona College Prep (77 points) and runner-up Gilbert Christian (100).
"The girls had a great race," Chino coach Marc Metz said. "We raced some solid schools and we placed well as a team."
Chino's boys claimed sixth as a team with 187 points. They were paced by Brenden Tupper (16th in 18:37) and David Gehman (18th, 18:48).
The Cougars will compete in the Desert Twilight Invitational on Friday, Sept. 30, in Casa Grande.
PREP BADMINTON
Prescott 9 Paradise Valley 0 (Sept. 20)
PRESCOTT – Prescott High's badminton team registered its second shutout victory in five days, blanking Paradise Valley on Tuesday, Sept. 20, at home to improve to 2-0 in Division II's Northwest Section.
In singles, Badgers team No. 1 Megan Raiss (11-0, 11-4), No. 2 Abby Nelson (11-4, 11-1), No. 3 Mackenzie Schultz (12-13, 11-3, 11-1), No. 4 Paige Campbell (12-13, 11-4, 11-4), No. 5 Zoey Frazier (11-5, 11-1) and No. 6 Sierra Price (11-0, 11-7) were winners.
In doubles, Prescott's No. 1 duo of Nelson-Schultz (15-8, 15-2), No. 2 grouping of Raiss-Campbell (10-15, 15-4, 15-7) and No. 3 tandem of Frazier-Price (15-12, 15-9) also were victorious.
The Badgers (4-3 overall record) will play host to Deer Valley for another section match at 4 p.m. Thursday, Sept. 22, at the PHS Auxiliary Gym.
COLLEGE VOLLEYBALL Embry-Riddle extends win streak to 7 (Sept. 17)
PRESCOTT – Embry-Riddle Aeronautical University's volleyball team upped its winning streak to seven matches on Sept. 17, cruising to a 3-0 victory over Antelope Valley (California) in league play at Eagle Gym.
The Eagles (9-2 overall record), who beat Antelope Valley 25-16, 25-19, 25-19, have caught fire. They are now 2-0 in the Cal Pac Conference and have won four consecutive matches in straight games. Embry-Riddle defeated Cal-Merced 25-19, 25-23, 25-23 in its league opener Sept. 16 at home.
ERAU senior Hannah Mercurio of Glendale dished 34 assists versus Cal-Merced before tallying 30 helpers against Antelope Valley. On Sept. 19, she was named Cal Pac Setter of the Week for her efforts.
Sophomore outside hitter Lyndsey Weiler of Phoenix registered 12 kills to guide a balanced Eagles attack versus the Merced Bobcats. Sophomore OH Jalin Yoder of Fountain Hills followed up with 10 kills versus Antelope Valley.
"It is a wonderful feeling to start conference play 2-0 in front of our home crowd," Embry-Riddle coach Jill Blascyzk said in a university news release. "Eagle Gym continues to be an electric environment for our home matches."
The Eagles resume conference play when they face Simpson University at 7 p.m. Friday, Sept. 23, in Redding, California. They will then visit Pacific Union College at 8 p.m. Saturday, Sept. 24, in Angwin, California.
In 2015, ERAU defeated Simpson twice, including once in the Cal Pac tournament semifinals. The Eagles also won two matches vs. Pac Union last fall.
COLLEGE X-COUNTRY Embry-Riddle men, women win ERAU Invite (Sept. 17)
PRESCOTT – Embry-Riddle Aeronautical University's men's and women's cross-country teams won their respective races at the program's annual ERAU Invite Sept. 17 on the campus course here.
Each squad scored a perfect 15.
The Eagles' men took the first nine individual places in their race, led by sophomore Jordan Bramblett of Cottonwood, who won in 27 minutes and 50 seconds.
ERAU redshirt freshman Matthew Siegel (second place, 28:13); junior Kyle Miller (third, 28:31); seniors Andrew Petersen (fourth, 28:41), Vincent Arminio (fifth, 28:47) and Blake Bradford (sixth, 28:49); junior Trent Marlow (seventh, 29:06); and sophomores Cole Zink (eighth, 29:33) and Noah Kroeze (ninth, 30:27) followed.
Embry-Riddle's women were guided by sophomore Keili Dorn of Kailua Kona, Hawaii, who won the 5K race in 20:29. Freshman Emma Lewis (third place, 21:23), sophomore Jessica Embro (fourth, 21:38), senior Lisa Garside (fifth, 21:41), freshman Joy Fucella (sixth, 21:49) and sophomore Rachel Chrisman (seventh, 21:49) followed.
"It was a very good day for Eagles cross-country," ERAU coach Chris Bray said in a university news release. "Winning both sides was good to see, but the fact that they worked hard when they were ahead was even better."
Embry-Riddle will travel to Santa Clarita, California, next week for the Mustang Challenge, hosted by The Master's College. Races begin at 8:45 a.m. Saturday, Oct. 1, at Central Park in Santa Clarita.
PREP SOCCER Chino Valley girls 11 Payson 0 (Sept. 20)
PAYSON – Chino Valley High's girls' soccer team stayed undefeated on Tuesday, Sept. 20, trouncing Payson in this blowout win on the road.
The Cougars now own a 5-0 overall record and are 2-0 in 2A Central Region play.
Six different players scored a goal for Chino. Lauren Foster led the way with four goals and three assists. Katie Farnsworth added three goals and an assist.
"It was a good, solid effort all the way around," Cougars coach Allen Foster said.
Chino will play host to Leading Edge Academy at 4 p.m. Sept. 27 in its next region match.
More like this story
SUBMIT FEEDBACK
Click Below to:
This Week's Circulars
To view money-saving ads...