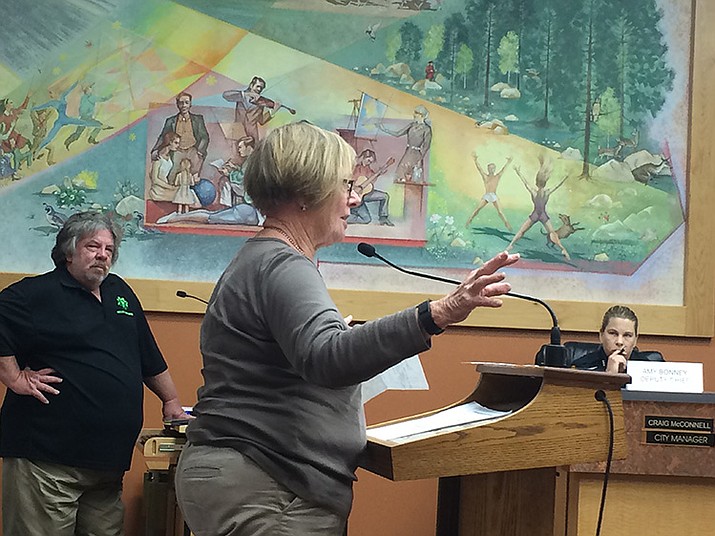 Photo by Cindy Barks.
Originally Published: September 18, 2016 6:01 a.m.
PRESCOTT – Some basic neighborhood courtesies are paramount to local resident Linda Smith when it comes to the priorities of sober-living-home house managers.
Smith, who told the Mayor's Ad Hoc Committee on Structured Sober Living Homes this week that she lives across the street from a halfway house, said the home's consistent mishandling of its household garbage has been a frustration for her and other residents on the street.
Often, the home's garbage containers stay on the street for weeks, Smith said, and its residents do not pick up the trash that falls out of the containers.
A draft city ordinance that is currently under review by the Prescott City Council includes a requirement for training for house managers of structured sober living homes in a city-approved course.
While noting that the house-manager training curriculum appears to be focusing on other matters, Smith said, "I think they need to know how to be good neighbors."
City Attorney Jon Paladini pointed out that the draft ordinance includes a requirement for a good neighbor policy, which directs occupants "to be considerate of neighbors, including refraining from engaging behavior that would unduly interfere with a neighbor's use and enjoyment of their home and property."
At the Wednesday, Sept. 14 meeting of the Structured Sober Living Home Committee, members heard an update about one house-manager training course that is already underway, and another that is in the works.
Smith's comments came after the ad hoc committee heard a proposal for a second training course, which would be in addition to the one that currently is underway through Yavapai College's Community Education program.
Barry Hancock, president of Prescott Rehab Support, told the committee that his course would put more emphasis on mental health issues, rather than on 12-step programs.
Hancock's course would differ from the course at Yavapai College in that it would be limited to about 10 students at a time, and would run for two and a half days rather than for the four days of the other course, Hancock said. "It would be a savings for the rehabs," he said, noting that the managers would need to be away from their jobs for fewer days.
As the primary instructor, Hancock said he would emphasize how to deal with the sober-living clients. "They would get a better understanding of the clientele," he said of the students.
In response to a question from committee member Connie Cantelme about how Hancock would deal with a student who obviously is unsuited for the house-manager job, Hancock said, "I would emphasize this is not an easy job," and would likely "talk to the company they're coming from."
Celeste Holly of TreeHouse Learning Community, which is offering the Yavapai College course, told the committee that the first round of training got underway last week, and is continuing this week.
The 15 people participating in the first session "all have a year of sobriety and are very intelligent," Holly said, adding, "The outcomes are going to be amazing."
The city ordinance on group home regulation has been in the works for months, and is expected to go to the Prescott City Council again on Sept. 27 and Oct. 11, with a possible effective date of Jan. 1, 2017.