Chew on This: English Garden Tea Room serves up more than just High Tea

By
Max Efrein
|
mefrein
Originally Published: September 18, 2016 6:17 a.m.
Essentials
Who: English Tea Room
Where: 220 W. Goodwin St., Ste. 1
Online: EnglishGardenTeaRoom.com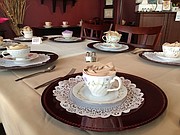 High Tea is often a misnomer.
Though it sounds regal, High Tea was originally a British term referring to the evening meal working-class citizens would take immediately after returning home from a long day of labor.
The more delicate teatime perceived by much of the world as including dainty porcelain cups and triangularly-cut cucumber sandwiches is more correctly called Afternoon Tea.
Gidgette Moshier recognizes this distinction and consciously chooses to go against the grain when referring to the image of her new restaurant, English Garden Tea Room.
"We like to call it High Tea," Moshier said. "It's designed to be eaten slowly and enjoyed."
Moshier opened the establishment about two months, supplanting Pangaea Bakery in the Old Firehouse Plaza along Goodwin Street in downtown Prescott.
Frilly napkin displays, fine porcelain china and crystal chandeliers encourage an atmosphere one might expect from a traditional English tea room.
"It's fancy," said Shirlee Laurenson, a customer who was dining with a friend for their usual luncheon. "Girls like fancy."
On the other hand, Moshier and her husband, Ken, decided they wanted the restaurant to appeal to men as well, so they've incorporated a few masculine features into the environment. Outlining a good portion of the dining room is a business-casual lounge space, for example. Additionally, a hardy selection of high-end spirituous liquor is offered along with beer and wine.
While most of the tea and food is made in-house, quite a few ingredients are imported to bring the true tastes of England and Ireland to Prescott.
One such import is Devonshire cream from London.
"It's almost a mix between cream cheese and butter that you're supposed to put on your scones," Moshier said.
A few others are lemon curd, Irish bangers (sausage), back bacon and British baked beans.
Perhaps seen as gratuitous by some, Moshier said there is reason for importing certain goods.
The Irish bangers, for instance, come from pigs that are fed a specific diet. The sausage is also uniquely seasoned and partially mixed with a special breadcrumb called rusk.
One of the most popular dishes offered at the restaurant is shepherd's pie ($13.79), Moshier said. The deep dish pie is filled with layers of ground beef and lamb cooked in Guinness Stout beer between layers of peas and carrots topped with mashed potatoes. It's served with seasonal fruit or a side salad.

The biggest seller, however, is the Cranberry Pecan Chicken Salad Sandwich ($10.39), Moshier said. It's made fresh daily with cranberries and pecans and served on a choice of croissant or bread. It includes a side of seasonal fruit or cottage cheese.
At the moment there is only an indoor dining space to enjoy. However, once a few additional renovations are complete, a newly-built back patio will be available for customers as well, Moshier said.
More like this story
SUBMIT FEEDBACK
Click Below to: