Marcos de Niza thumps Bradshaw Mtn., 53-33 (VIDEO, PHOTO GALLERY)
By
Doug Cook
|
dougout_dc
Originally Published: September 17, 2016 6:02 a.m.
PRESCOTT VALLEY – In an all-around ugly 4A Conference affair, Marcos de Niza trounced Bradshaw Mountain High's football team, 55-33, on a cool Friday night, Sept. 16, at Bob Pavlich Field.
Photo Gallery
BMHS vs Marco De Niza Football 091616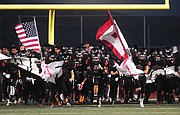 The Bears saw their record drop to 2-2 overall, while the visiting Padres remained unbeaten at 4-0.
Bradshaw, hindered by turnovers and a porous defense, trailed only 19-13 at halftime. But the hosts were outscored 34-20 in a nightmarish second half.
Padres senior tailback Zyayre Moss rushed for 117 yards and four touchdowns, including two apiece in the first and second halves. His scores went for 2, 11, 53 and 13 yards.
Marcos de Niza senior quarterback Nazareth Greer had a monster evening as well, throwing for 374 yards and three TDs. He also ran for 108 yards. Padres senior wideout Jordan Johnson was Greer's primary target, as Johnson had 146 yards receiving and a TD grab in the second half.
Bradshaw Mountain quarterback Gunner Bundrick, who has combined to throw for more than 1,000 yards in only four games, completed 22-of-33 passes for 257 yards and two touchdowns. Bundrick, who tossed two interceptions, had only one pick going into the game.
Bears wideout Ryan Shaver registered 105 yards receiving and caught a 19-yard TD pass as time expired at the end of the third quarter.
There were two crucial junctures in the contest that turned the tide against Bradshaw.
The first turning point came toward the end of the first half. Bradshaw led 13-6 with a minute remaining until halftime, but Marcos de Niza scored two TDs in the final 44 seconds to capture the momentum.
The dagger came inside of 10 seconds to go with Bradshaw in the red zone and looking to score with the game tied at 13-13. Bundrick, who was hounded from his blind side all night, was hit hard from behind and fumbled near the Padres' 20-yard line. Marcos de Niza senior defensive end Marcus Green scooped up the ball and ran 80 yards untouched for a 19-13 Padres lead just 1.3 seconds before the horn sounded.
However, the major turning point came with less than 10 minutes left in the third quarter and Bradshaw trailing 26-20. Marcos de Niza threw a 46-yard TD pass to junior wideout Joren Davis and the Padres went on to score 20 unanswered points in the third period for a 46-20 lead – a deficit that the Bears couldn't overcome.
Bradshaw begins its Grand Canyon Region slate at 7:30 p.m. next Friday, Sept. 23, at Walkup Skydome on the campus of Northern Arizona University. The Arizona Interscholastic Association (AIA) will release its first 4A power-point rankings on Sept. 27.
More like this story
SUBMIT FEEDBACK
Click Below to: