Obituary: Elizabeth C. Pierce
Originally Published: September 15, 2016 6:01 a.m.
Elizabeth C. "Betty" Pierce peacefully passed away on Sept. 10, 2016, at Marley House hospice home. Born in Schenectady, New York on August 13, 1934, she was the only child of the late Ethel Ingersoll Orton and Charles W. Champ, the wife of her beloved late husband J. Allen Pierce and the former wife of the late Theodore A. Bick.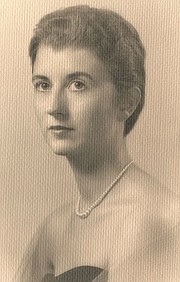 Betty graduated from Nott Terrace High School in Schenectady, New York, in 1952 where she participated in sports and clubs, including yearbook, student council and theatre. She attended the State University College at Oneonta, New York, graduating with a degree in Elementary Education in 1956. In her professional career, Betty taught in several school districts in New York State, became a real estate agent, office administrator and a small business owner. She was deeply involved in a wide variety of community and volunteer activities throughout her life, including literacy work, Habitat for Humanity and church activities such as religious education, lay ministry and leadership.

Betty was an expert craftswoman specializing in needlepoint, rug hooking and quilting. She greatly appreciated the arts, including literature, music, photography, performance, painting and pottery.
Betty loved animals and nature as well as history and culture, particularly of the Southwest. She was able to travel widely, especially in retirement with her husband Allen, across the mainland United States, Alaska, Hawaii, Mexico, Canada and Europe.
Betty is survived by her four children, Nancy Bick of Kansas City, Missouri, Sandra (Michael) Tritt of Oneida, Tennessee, Jonathan Bick of Albany, New York, Andrew (Kristin) Bick of Asheville, North Carolina; stepdaughters Margaret Pierce Posto and Ann Pierce of Ft. Wayne, Indiana; her sister Sharon (Leo) Zagata of Shickshinny, Pennsylvania; brothers Paul (Donna) Champ of Knoxville, Tennessee and David Champ of Mifflinville, Pennsylvania; seven grandchildren; three step-grandchildren; two great-grandchildren; extended family and many dear friends.
A Memorial Service to celebrate Betty's life will be held on Oct. 8, 2016 at 10 am at Prescott United Methodist Church, 505 W. Gurley Street, Prescott, Arizona, followed by a Service of the Committal at 3pm at the Desert Garden United Church of Christ Columbarium, 18818 N 128th Ave, Sun City West, Arizona. In lieu of flowers, donations in Betty's memory may be made to Prescott Area Habitat for Humanity, 1230 Willow Creek Rd., Prescott, AZ 86301.
SUBMIT FEEDBACK
Click Below to: