By
Nanci Hutson
|
HutsonNanci
Originally Published: September 15, 2016 6 a.m.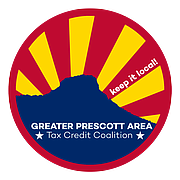 Want to help?
A total of 29 agencies in Prescott, Prescott Valley and Chino Valley are qualified through the Arizona Department of Revenue Office of Economic Research and Analysis. To see the full listing, visit the website: http://www.azdor....">www.azdor.gov/Por...
These are the local eligible agencies now participating in the newly formed Greater Prescott Area Tax Credit Coalition. Any other agencies interested in joining the coalition can contact Kristin Kerns at the Boys & Girls Club of Central Arizona, 928-776-8686.
Boys & Girls Clubs of Central Arizona
Boys to Men Mentoring Network
The Launch Pad Teen Center
Northpoint Expeditionary Learning Academy
People Who Care
Prescott Area Habitat for Humanity
Prescott Free Clinic
Prescott Meals on Wheels
Prescott Noon Lions Foundation
Prescott Unified School District
U.S. VETS Initiative
West Yavapai Guidance Clinic, Inc.
Yavapai CASA for Kids Foundation
PRESCOTT – Too good to be true.
That's what people may think when they hear that they can direct several thousand dollars to their favorite local charities and then get that amount taken directly off their state tax bill.
Yet it is true.
Individuals and couples are able to donate up to $400 or $800 respectively to nonprofit charities of their choice that benefit children and adults – pets are not included – and then recoup those dollars back from their state tax bill. Donors to qualifying foster care agencies, such as Yavapai CASA for Kids Foundation, this year can give $500 and $1,000. The donations can be made in monthly increments through the nonprofit, or can be a lump sum paid no later than April 15.
So that means if a couples' state income tax bill comes to $1,000, and they donated $800 to a local non-profit, they will only pay $200. The donation can also be calculated into an individual or couple's federal tax return.
In addition to giving such dollars to a nonprofit charity, families can, too, make similar contributions to schools, veteran organizations and agencies that provide services to foster children. If the amount donated is higher than the tax bill owed, the dollars can be carried forward.
Several local non-profit leaders three months ago founded the Greater Prescott Area Tax Credit Coalition to bring awareness to this means of donating to local agencies, and other worthwhile institutions in Yavapai County, for people who might otherwise think they could not afford to do so.
The coalition is the brainchild of Boys & Girls Club of Central Arizona Development Director Kristin Kerns.
She said this is a novel form of giving that too many people do not understand, and yet can prove a major benefit to local nonprofit charities that depend on donors to fulfill their mission. So she thought collaborating with fellow agencies might benefit all local nonprofits by enabling leaders to spread a unified message so that people would recognize the benefits of keeping their tax dollars local.
"I wanted to bring everyone together and have one voice," said Kerns of the organization that now has a Facebook page and a website and has created a coalition logo for all of its educational materials.
At this time, the coalition has 13 members and Kerns said they are always welcome to add more.
"If you owe the state of Arizona a boatload of cash, this is a way you can keep it in Yavapai County," said Laura Norman, chief development and communications officer for the West Yavapai Guidance Clinic in Prescott Valley. "People think the tax credit is too good to be true."
Yavapai CASA for Kids Foundation Development and Outreach Coordinator Crystal Ogden said she favors this coalition because it offers agencies a chance to connect even as they are seeking more dollars to provide a much-needed array of services to both adults and children in the community.
"I don't think we've even scratched the surface," Ogden said of realizing the benefits of the tax credit donation potential.
This tax credit program allows "anyone to be a philanthropist," declared Charles Matheus, executive director of the Boys to Men Mentoring Network.
"We can empower anyone to make a change for everyone," Matheus said. "We can make people feel really good about making positive change in the community.
"When was the last time you really felt great when you filed your taxes?"
More like this story
SUBMIT FEEDBACK
Click Below to:
This Week's Circulars
To view money-saving ads...