'Complete' fair offered something for everyone
Attendance up 28 percent at 2016 county fair
The Yavapai County Fair attracted 21,600 people through the gate this year – 28 percent more than last year, reports Yavapai County Fair General Manager Rosie Darby. Returning the fair to where it originated at the Prescott Rodeo Grounds made a difference, she said.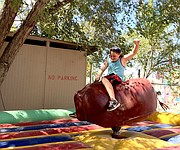 Photo Gallery
Yavapai County Fair 2016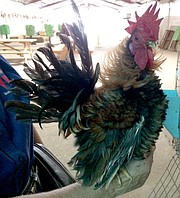 "People last year didn't realize it was back. I think being back in Prescott where the fair began is where people wanted to be. It's a complete fair with animals and the carnival, and they want to be part of that," Darby said.
Several departments had an increase in entries – homemaking, creative arts, and fine art – and others, like photography, remained about the same. Darby wasn't sure about the horticulture department, but said the "weird summer weather" may have impacted the entries. However, weather appeared to have no effect on an award-winning 75-pound pumpkin grown in Williamson Valley.
After feedback from teachers, fair officials waived a $1 entry fee in the fine arts department. Winning entrants received an award, but no premium (cash). School participation was up significantly, Darby said, adding that there may be some revisions made for next year.
This year's fair joined 4H and FFA events, exhibits and sales with the regular fair events, including the livestock auctions.
"As a parent, I would say the auction was very successful. The prices were good for the kids," Darby said. "Now that it's combined with the fair, we're seeing a lot more public support for the auction."
Darby thanks the public for its support.
"I think they enjoyed being able to achieve that complete feeling of coming together and celebrating as a county, from cowboys to ranching, gardening and art."
More like this story
SUBMIT FEEDBACK
Click Below to:
This Week's Circulars
To view money-saving ads...