Woman faces arson charge for home fire in Ash Fork
Originally Published: September 13, 2016 4:41 p.m.
Updated as of Wednesday, September 14, 2016 6:16 AM
ASH FORK - A fire that destroyed a home in the Juniper Woods area on Saturday, Sept. 10 was intentionally set by a woman who had been living there, according to Yavapai County Sheriff's spokesman Dwight D'Evelyn.
Irene Hillard, 44, had been staying at the house with the owner's permission; he had agreed to allow her to live there as a caretaker while he was away on business.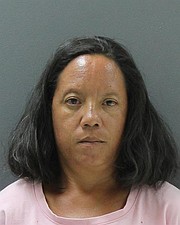 D'Evelyn said that Hillard was apparently moving to a new place and was taking personal property out of the house.
"At one point, she was seen walking out of the home as flames became visible from a bedroom where a pile of paper and picture frames were now burning. Neighbors in the area noticed the flames and called the local fire department," D'Evelyn said, but by the time firefighters arrived, the house was fully engulfed in flames.
Neighbors "saw Hillard standing in front of the house, 'smiling,' and drinking a beer," D'Evelyn added.
Hillard was staying in the house because her own mobile home in Juniper Woods also burned down in a recent suspected arson fire. That fire, D'Evelyn said, "is under investigation – she has not been charged" in connection with it.
Two large water tanks, which could have been used to fight the house fire, had been recently drained.
Hillard "is suspected of emptying the tanks, but the investigation to this point is not conclusive," D'Evelyn said. "Hillard had claimed to neighbors the water on the victim's property was poisoned and may have used this as an excuse to empty the tanks – but at this point, there are no witnesses who saw her do so."
Investigators found a propane tank in the home's living room, and Hillard admitted putting it there, but denied starting the fire, saying it was caused by a gas leak.
Detectives contacted the homeowner by phone, and he said there had been "a lot of problems with Hillard in recent weeks."
She was arrested and booked into the Camp Verde jail on felony charges of arson of an occupied structure and property damage. Hillard is being held on a $250,000 bond.
More like this story
SUBMIT FEEDBACK
Click Below to: