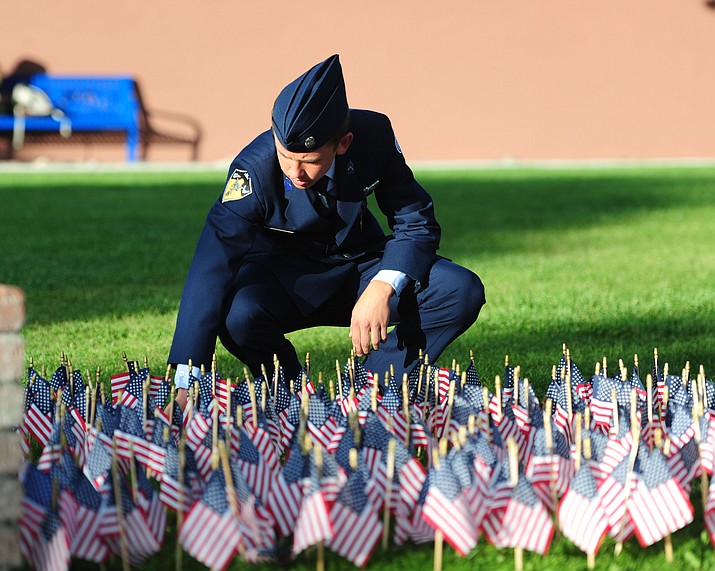 Photo by Les Stukenberg.

Originally Published: September 13, 2016 7:43 a.m.
PRESCOTT – Prescott High School's JROTC 9/11 service didn't last but 15 minutes.
Yet, the early morning ceremony and keynote address were profound.
Photo Gallery
Phs 9 11 Ceremony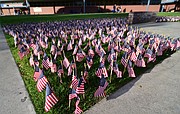 "Fifteen years ago today, we saw the Twin Towers at the World Trade Center fall, the Pentagon burst into flames, and an airliner crash into a field in Pennsylvania. The scenes were both heartbreaking and horrifying," declared Prescott High School Principal Stephanie Hillig. "This is a scene that these students were too young to remember or may not have even been born yet.
"However, the impact of this horrific terrorist attack impacts many lives today. During these attacks we saw heroes rise out of the ashes. The first responders, the doctors, the nurses, and the citizens that helped in any way they could.
"I am standing before you today as my family is directly impacted by the terrorist attacks from 9/11. My brother-in-law, Staff Sergeant Philip Butkins, is currently serving a tour in Kuwait. He is tolerating the 130 degree heat and being away from his family to defend our freedom and the lives of those needing protecting in Kuwait … We will never understand what he sees, hears, smells or fears during his time in Kuwait. Right now, we can only pray for the safe return of this American soldier."
Hillig then posed a question.
"Is he a hero?"
Standing in the front lawn just steps away from the flagpole where the JROTC arranged small flags representing those lost on 9/11 and an honor flag that was then lowered to half staff, Hillig looked around where police officers, firefighters, students, teachers and visitors had gathered. She told them to think about who they might consider a hero.
"Staff Sergeant Butkins will never call himself a hero; he is too humble for that. But what defines a hero? Is it a man that will risk his life to fight for the freedom of all of us? Is it a man that will protect those of whom he has never met?"
Hillig was clear that heroes live among us. Some heroes wear uniforms, and some do not, she said.
"A hero is a person who is admired, or idealized, for courage, outstanding achievements or noble qualities," Hillig said. "… A hero is not measured by the number of lives they save, but by the qualities they display. You could be a hero to that teacher who is having a rough day; to the student who is sitting by themselves at lunch."
Whether or not people have their own memories of the terrorist attack on 9/11 or learn about it those who did, or even in a classroom, Fire Chief Dennis Light said these ceremonies are critical to pay homage to those who were lost on that day and to reflect on what was a defining moment in America's story, one the chief said "we never want to forget."
The ceremony closed with sophomore trumpeter Bryan Malone performing "Taps."
More like this story