Sept. 11 memorial: 'Our generation's Pearl Harbor' (VIDEO)

By
Cindy Barks
|
Cindy_Barks
Originally Published: September 12, 2016 6:03 a.m.
PRESCOTT VALLEY – Likening the Sept. 11, 2001 terrorist attacks to the attack on Pearl Harbor decades before, Prescott Valley Police Chief Bryan Jarrell pointed out some "stark" differences between the two.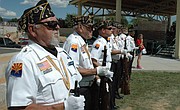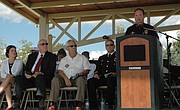 While Pearl Harbor was a military attack that did not specifically target civilians, Jarrell said, terrorist attacks such as the one that occurred in New York City 15 years ago are "cowardly acts" by those who commit acts of violence primarily against citizens.
"Then, our enemies wore uniforms, and assembled under their flag," Jarrell said of the 1941 attack on Pearl Harbor. "Today, we are attacked by cowards and spineless ways."
Jarrell's comments came as a part of Prescott Valley's ceremony commemorating the nearly 3,000 who died in the Sept. 11 terrorist attacks. For the past five years, a Healing Field has been erected on the grounds of the Prescott Valley Civic Center, featuring about 3,000 American flags, along with the names and histories of the fallen.
Nearly 400 people gathered for the ceremony on Sunday. Beforehand, many of them wandered through the rows of flags, reflecting on the people who died that day.
"She was too young to die," 10-year-old Jacob See said as he read the information describing one of the Sept. 11 victims – a 25-year-old woman.
See, who came to the event with his family, said, "I feel sad about these people, because they died at a very young age, and there was no reason to."
See's mother, Sarah Schroeder, said she brought her children to the event because she wanted them to realize that Sept. 11 is "not a day to celebrate, but a day of mourning." Noting that other commemorative days, such as Memorial Day, have become holiday weekends for summer barbecues, Schroder said she wants her children to remember the solemn history behind Sept. 11.
Jarrell described the day as one that "really what has become my generation's Pearl Harbor," adding, "The differences, however, are stark."
Dan Fraijo, who served as Prescott Fire Chief during the 2013 Yarnell Hill Fire that killed 19 young Granite Mountain Hotshots, stressed that each of the flags waving in the warm breeze – including flags memorializing the fallen Hotshots – represented a person whose family is still dealing with the loss.
"When you look over there, and see those flags, every one of those flags represents families, friends, relatives, children … And these are people who never will recover."
Taylor Caldwell, the sister of fallen Granite Mountain Hotshot Robert Caldwell, was among those attendance at the Field of Healing on Sunday. She said her family's tragedy has made her more aware of other tragedies. "I try to memorialize people a lot more," she said. Of her own loss, she said, "It never really gets any easier; you just learn how to cope."
Speakers also emphasized the need to stand up to terrorism.
"Apparently, they have not seen how Americans deal with bullies and cowards," Jarrell said of the terrorists. "We stand up to them and we beat them down, and we will continue to do so. In fact, for all of the differences between 1941 and now, the one thing that has remained constant is the resolve of the American people."
Scott Freitag, fire chief with Central Arizona Fire, stressed the importance of patriotism, and criticized the National Football League players who have chosen recently not to stand for the National Anthem.
"The NFL does not stand as a shining example of our American values," Freitag said. "We have nothing to apologize for, and our country is not collapsing around us. However, we must remain vigilant; we must remain committed to our core."
More like this story
SUBMIT FEEDBACK
Click Below to: