Sept. 11: Prescott students get somber lessons in country's history

By
Nanci Hutson
|
HutsonNanci
Originally Published: September 11, 2016 6:01 a.m.
PRESCOTT – Granite Mountain sixth-grade teacher Kelly Gallagher took her students on a journey back in history on Friday – they first traveled to Dec. 7, 1941, in Pearl Harbor and then fast forwarded six decades to Sept. 11, 2001, in New York City, Washington, D.C. and a field in Pennsylvania.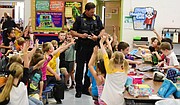 With every eye riveted on a movie screen in the front of Gallagher's classroom, the students listened with fascination to the famous words of two presidents – Franklin Delano Roosevelt and George W. Bush – who both decried acts of despicable evil perpetrated against the United States of America. The first was one nation rising against another in the bombing of America's Pacific naval fleet; the death toll was over 2,300. The second was an act of international terrorism committed against civilians and government bureaucrats; the death toll rising to just under 3,000 with another 6,000 injured. It was the deadliest day for firefighters and law enforcement in the history of the United States; more than 400 killed.
Both presidents expressed sadness and outrage, and yet buoyed the American resolve to seek justice and to reclaim its might against any force that would strive to do this nation and its people harm.
Technology of the ages dictated some of the response immediacy; Roosevelt made his appeal to Congress the day after the attack on Pearl Harbor; it was in black and white. President Bush made his appeal to the nation from the Oval Office of the White House the night of the attack; he is seen in color.
The similarities between these two world-changing events were that both leaders spoke not just to Americans but to a world-wide audience, and both made their own declarations of war.
The attack on Pearl Harbor almost immediately thrust the United States into World War II. The Sept. 11, 2001, terrorist attacks ignited what is to this day known as the war against terror in the Middle East, with American ground troops deployed to Iraq and Afghanistan with other covert operations to places known for terrorist networks across the Middle East.
The orchestrator of the 9/11 attacks, the founder of al-Qaeda Osama Bin Laden, was killed a decade later in a military action within a compound where he was hiding in Pakistan on May 2, 2011.
One day prior to the students listening to the two presidents' speeches, Gallagher showed students news footage of the two attacks. For some students, it was their first exposure to either piece of history, she said.
At nearby elementary school Abia Judd, local first responders, police, firefighters, sheriff's deputies and ambulance crews, were invited to come for a recognition luncheon as part of their 15th anniversary commemoration of the Sept. 11, 2001, terrorist attacks. It has become an annual tradition.
Before Gallagher charged her students with contemplating the significance of these two events in this nation's history, she asked them to consider personal moments that shaped their lives; the birth of a sibling, a family move from one state to another; possibly the death of a loved one.
After seeing the news images and hearing the speeches, Gallagher asked the students to pen their reactions – she said she still gets "goose bumps" when she listens to them both – and directed them to work in groups to compose on their computers their own announcements complete with an image they choose to capture their audience attention.
Student Payton Raffensperger said she thought Gallagher's presentation of these two pivotal moments in history was "wonderful" and infused students with a belief that no matter what happens in the world America will stand strong.
"Both were very sad, but showed America's courage and faith and belief that we can fight back against terrorists," Payton said. "We're one great nation, and nobody will take that away from us."
Student Michaela Campbell echoed similar sentiments in her written assessment.
" … We fight as one, we cry as one," Michaela wrote. "America is a special place … I know Americans grew stronger after the events that happened."
More like this story
SUBMIT FEEDBACK
Click Below to:
This Week's Circulars
To view money-saving ads...