Prep Cross-Country Prescott Badger girls win Wherley Invitational, boys take 2nd
By
Doug Cook
|
dougout_dc
Originally Published: September 11, 2016 6 a.m.
PRESCOTT — Despite competing in one of the smallest fields in the Wherley Cross-Country Invitational's 39-year history, Prescott High was the clear winner on Saturday, Sept. 10, as its girls placed first and its boys second on the Embry-Riddle Aeronautical University course.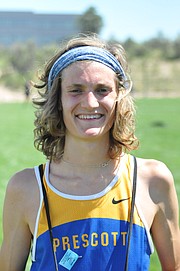 Only three varsity girls' teams scored at the meet, one in which all seven of a squad's runners must cross the finish line in their separate races. Just eight varsity boys' teams scored, as Brophy College Prep won after placing six of its runners in the individual overall top 10.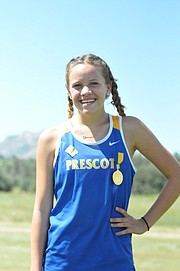 "We performed strongly," said first-year Prescott cross-country coach Cylinda Bray on a hot and humid day. "This was a 'stepping stones' moment. For a small meet, we did well."
Individually in the 5-kilometer varsity girls' No.1-runners' race (3.1 miles), the Badgers' Carissa Evans placed fourth (seventh overall, 23:54) on a morning that standout senior Makennah Mills did not run. Bradshaw Mountain sophomore Anna Zea medaled by placing sixth (13th overall, 24:52).
In the No. 2 varsity girls' runners' race, Prescott freshman Kenna Bray won in 22 minutes and 48 seconds – posting the second-fastest girls' time of the meet. Kenna Bray, who holds the state record for 12-year-old girls in the 5K, was the No. 1 junior high cross-country runner in Yavapai County in each of the past two years before enrolling at PHS.
Freshman Kaity Kasun, Kenna's close friend, won the No. 3-runners' race and finished fourth overall in 23:21.
Other local runners who fared well included Bradshaw's Jacie Hambrick (24th overall, 26:55) and Prescott's Kara Hillig (5th in the No. 4s race; 30th overall, 27:49).
On the boys' side in the 5K varsity race, Prescott junior Matt Bradley placed third among the No. 1 runners in 18:41 – the eighth-fastest boys' time on the day. Bradshaw Mountain's David Villagran snared 11th among the No. 1s (33rd overall) in 20:09.
In the No. 3-runners' race, Prescott senior Bryan Evans was second (19:12, 14th overall). In the No. 2-runners' race, John McMahon (19:34, 23rd overall) placed fifth. McMahon said he was not feeling well during the run. Bradshaw Mountain's Levi Charley placed third among the No. 3 runners and claimed 25th overall (19:45).
Badgers freshman Luke Fredrick, in the No. 4-runners' race, registered the 15th-fastest time on the day in 19:14 and placed second. Prescott junior Garrett Ward took third among the No. 5 runners and was 22nd overall in 19:31.
More like this story
SUBMIT FEEDBACK
Click Below to:
This Week's Circulars
To view money-saving ads...