Chino girls' soccer bests Round Valley in rematch of 2015 state semis
Cougars freshman Matthews notches hat trick with 4 goals
By
Doug Cook
|
dougout_dc
Originally Published: September 11, 2016 11:08 p.m.
CHINO VALLEY – With Round Valley defenders hounding Chino Valley girls' soccer star forward Katie Farnsworth most of the afternoon, Cougars freshman Kacey Matthews consistently found herself open for shots.
And she didn't disappoint.
Photo Gallery
CVHS Vs Round Valley Girls Soccer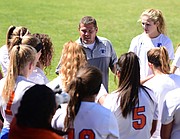 Matthews scored four goals in only her second varsity match on Thursday, Sept. 8, guiding the Cougars to a big 4-3 win over the defending small-schools state runner-up Elks on a warm, sunny day here.
Chino Valley, which stayed unbeaten at 2-0, received two assists from Farnsworth and a helper from sophomore midfielder/defender Serena Reed.
Matthews has scored six goals in Chino's first two games. She tallied two in the Cougars' season-opening 8-2 win at Snowflake Aug. 30.
"She [Farnsworth] makes good passes to me and I get the opportunity to shoot, or if someone sends a good through-ball, I also get a great opportunity," said Matthews, who scored four goals in her first varsity scrimmage. "I can control the ball and just rip it."
Round Valley (0-1 record) was led by senior forward Rachel Brown's two goals. Midfielder Natalie Goodsell scored one goal.
The game was big for Chino because 2015 Division IV state runner-up Round Valley defeated the Cougars, 2-1, in the semifinals last fall.
"It gives us a lot of motivation," Chino senior sweeper China Gomez said of Thursday's victory. "It makes us realize that we've come a long way from last year."
Now as members of the Arizona Interscholastic Association's newly aligned, 13-team 2A Conference, it's likely that these teams will meet again in the 2016 postseason. Only the top-four ranked teams qualify for state this fall.
If that happens, chances are that the Elks will be better prepared for Matthews. Round Valley coach Bryce Burnham said he had to replace three graduated starting senior defenders from his 2015 squad in the off-season.
Gomez said the Elks were accustomed to the Cougars targeting Farnsworth for scores. Round Valley wasn't aware of Matthews' prowess.
Chino Valley coach Allen Foster said he had originally planned for Matthews to play goalie this season. But once he saw how talented she is as a scorer, he put her in the attack.
"She's a fantastic keeper, but we're better with her in the field and [starting goalie] Giselle [Chinchilla] in the box," Foster added. "She's a perfect complement for Katie because Katie gets all of the attention because of her speed. If Kacey just puts herself in the right position, she's going to lead this team in scoring."
The athletic and gifted Matthews handed the Cougars a 1-0 edge 20 minutes in on a 5-yard shot while running to her right and shooting across her body to the left.
In the 31st minute, Round Valley tied it at 1-1 when Goodsell drilled a 20-yard free kick over Chino's three-person wall and into the top shelf where Chinchilla had no play on the ball.
Several minutes later, in the final two minutes before halftime, Matthews snapped the tie on a shot in front of the net via a heady assist from Farnsworth.
In the second half, Chino appeared to take control of the match 18 minutes in, as Matthews scored two more goals.
Matthews, who is as proficient at kicking with her right foot as with her left, booted in her third goal with her left foot. With Chino ahead 3-1 in the 47th minute, Matthews' fourth goal came 11 minutes later. She launched the ball into the top shelf, like she had on her third strike.
"It feels really good – I didn't expect it because I used to play goalie," said Matthews, who started playing soccer at age 7, of her breakthrough offensive performance. "It's a good opportunity for me, and I like it."
And yet like any strong opponent, the Elks roared back. They wasted little time, too, doing so behind Brown.
In a five-minute window, from the 60th to the 65th minutes, Brown snuck behind the Cougars' defense for back-to-back goals. A breakaway in the box and a shot in the left corner put Round Valley within one of a tie, 4-3.
During the final 15 minutes, the Elks had a few opportunities for the equalizer. However, Gomez blocked the best of them to preserve the victory for a Chino team that's been fighting a flu bug.
"We were reading their passes really good [toward the end of the match], and we were keeping up with them for the most part of that," Gomez said. "Not as much running, but cutting them off when they were doing the pass."
Added Burnham, "Our touches weren't good enough, so we didn't get good shooting or scoring opportunities."
Chino Valley, which faces 2015 state tournament qualifiers in each of its first four games, visits defending D-IV state champion Blue Ridge at 3 p.m. this Saturday, Sept. 10, in Lakeside.
Round Valley lost the 2015 state championship to Blue Ridge, 1-0, not allowing a goal until the 71st minute. Burnham said the 2016 Chino team might be as good as Blue Ridge, a winner of four straight state titles.
"Chino appears to be the strongest team in the state right now," he added. "We were a hair stronger last year than we are this year, and they've gotten better."
More like this story
SUBMIT FEEDBACK
Click Below to:
This Week's Circulars
To view money-saving ads...