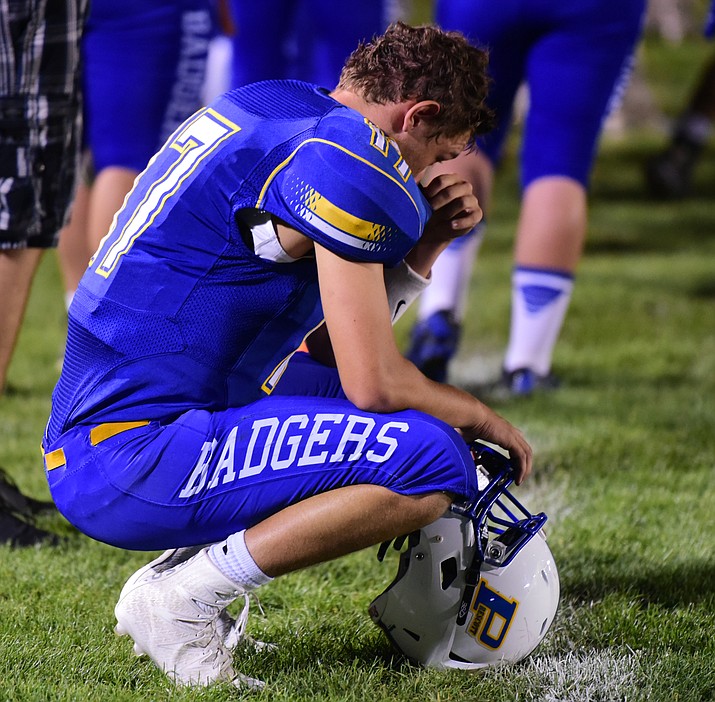 Photo by Les Stukenberg.

Originally Published: September 10, 2016 6:05 a.m.
Updated as of Monday, September 12, 2016 12:49 PM
PRESCOTT — Collin Mills had eight carries for 86 yards, but quarterback Ryan Greene completed just 4 of 13 passes for 29 yards and an interception as the Prescott football team never secured a rhythm offensively, losing 23-3 to Cactus Shadows on Friday night.
Photo Gallery
Phs Vs Cactus Shadows Football 090916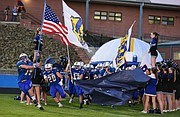 The Badgers (1-2, 0-0 4A Grand Canyon) managed only 194 yards offensively, and all but 18 of Mills' yards on the ground came in the second half for Prescott, which lost for only the third time in the last 16 games at home dating back to 2013.
First-year Prescott head coach Michael Gilpin refused to blame any of the Badger players for the loss Friday night, instead taking it all upon his shoulders.
"I didn't have the team prepared as well as I should of. I got out-coached, I was out-prepared," Gilpin said. "It's something I'm embarrassed of, and it's not going to happen again."
Cactus Shadows played "as advertised," Gilpin added.
"They were a tough, hard-nosed team. They wanted to run downhill, and they did. There was no trickery, no subterfuge, nothing like that," Gilpin said. "They just flat out-prepared and out-schemed us."
That "hard-nosed" mentality for Cactus Shadows started and ended with senior running back Peyton Kuehn, who had 20 carries for 59 yards and two touchdowns, the first coming on a 1-yard score to put the Falcons up 7-0 with 1:48 to play in the first quarter.
Kuehn credited his offensive line with a great performance, and their work-ethic over the summer.
"Just great blocking up front tonight," Kuehn said, adding that if the Falcons are to continue their success, both sides of the ball will have to play well.
"We need to keep shutting down on defense, and pushing the ball up on offense and having an aggressive mentality," Kuehn said.
Cactus Shadows (3-0, 0-0 Skyline) amassed 365 total yards of offense, with junior quarterback Andrew Young methodically picking apart the Badger defense, completing 11 of 15 passes for 181 yards and a touchdown.
At one point, Young was a perfect 7 for 7 until Prescott's Corey Huard stepped in front of a pass for an interception with 11:01 to play in the third quarter.
Young's lone touchdown pass came with 9:46 to play in the game on an 18-yard strike to Gavin Stapley to give the Falcons a 23-3 lead.
Prescott's only points came on a 36-yard field goal by Bryce Peters at the 9:15 mark in the third quarter.
Cactus Shadows head coach Mike Hudnutt said coming in, they were expecting a physical game.
"We felt like we were looking at ourselves in the mirror [when watching Prescott] film, but our defense has played outstanding for three straight weeks," Hudnutt said.
NEXT UP
Prescott will travel south to Phoenix and play Moon Valley (2-1, 0-0 4A West Valley) on Friday, Sept. 16. Kickoff is scheduled for 7 p.m.
Cactus Shadows will return home to host Cactus (1-2, 0-0 4A West Valley) to open region play Sept. 16.
Mingus beat Cactus 35-28 on Friday night, and the Falcons beat the Marauders 13-6 on Sept. 2. Kickoff is set for 7 p.m.
Brian M. Bergner Jr. is a sports writer and columnist for The Daily Courier. Follow him on Twitter, Instagram, Periscope and SoundCloud at @SportsWriter52, or on Facebook at @SportsAboveTheFold. Reach him by phone at 928-445-3333, ext. 1106.