19th annual Empty Bowls event at courthouse plaza Sunday
Good soup, good cause, good time
Volunteers have made the Empty Bowls event a success for the past 18 years. This year proves to be yet another fun and fulfilling opportunity to help keep local food banks stocked and at the same time enjoy two bowls of gourmet soup and take home a handmade soup bowl.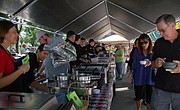 The annual event takes place from 11 a.m.-2 p.m. Sunday, Sept. 11, on the Courthouse Plaza. Empty Bowls is a worldwide event designed to increase awareness, understanding and action on the complex issues of food security.

Prescott Unitarian Universalist Fellowship and Granite Peak Unitarian Universalist congregations have sponsored this community outreach for 19 years. Through the help of volunteer artists and ceramicists, they have amassed more than 600 handmade bowls for participants to choose from as they peruse 14 choices of gourmet soup donated by local restaurants. They pick two soups to dine on along with a bread roll and water. The cost: $15.
Smoki Museum donates their tables and chairs to use, and U.S. Services provides the soupspoons and napkins. Educational information is available on nutrition, local farm and community garden programs. Another table will display items for a silent auction and raffle. Prescott Area Wood Turners have donated more than 100 handcrafted wood bowls.
Proceeds from Empty Bowls support the quad-city food banks. This past year, it raised $14,000 to distribute to Prescott Community Cupboard, Chino Valley Food Bank, Prescott Valley Food Bank, Yavapai County Food Bank, and CCJ Open Door Pantry.
Soups this year include:
• Augie's: Gumbo.
• Far From Folsom: Cash Chili Steak & Bean.
• Blackboard Kitchen: Vegan Spicy Asian.
• Lonesome Valley Brewery: New England Clam Chowder.
• El Gato Azul: Posole.
• Prescott Seafood Co.: Lobster Bisque.
• Hungry Monk: Onion Beer Cheese Soup.
• Park Plaza Deli: Vegan Roasted Butternut Curry.
• Raven Café: Manhattan Chowder.
• Bonnfire of Chino Valley: Minestrone.
• Premier Catering & Events: Southwestern Chipotle Chicken.
• El Gato Azul: Salmon Bisque.
• Hassayampa Inn: Albondigas de mi Familia.
• Muphy's Restaurant: Buffalo Chicken Potato soup w/Bleu Cheese garnish.
The youth band, The Cross Eyed Possum, will entertain those waiting in line.
"Many have supported us from the beginning and say they love meeting and chatting to the people in line and listening to the music. They wouldn't miss the opportunity to buy another bowl when they know the donation goes to such a good cause," said event coordinator Eunice Ricklefs.
More like this story
SUBMIT FEEDBACK
Click Below to: