People Who Care expands its reach with new office in Prescott Valley

By
Nanci Hutson
|
HutsonNanci
Originally Published: September 8, 2016 6 a.m.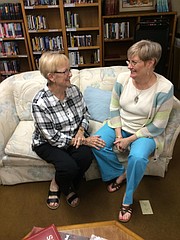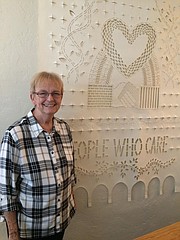 PRESCOTT – Fritzi Mevis is a woman known as someone with a heart for others.
For 17 years, Mevis has been the face of the People Who Care organization that pairs volunteers with seniors and others who can no longer drive yet wish to retain their independence and live on their own.
"Fritzi is the definition of a stalwart in our community," said Paul Mitchell, the executive director for the Coalition for Compassion and Justice, a 15-year organization of which Mevis was one of the founders. "She has been consistent in her pursuit of finding creative ways to help people in need whatever their needs might be."
People Who Care volunteers, many of them retired, offer weekly rides to the grocery store and to medical appointments. Yet they are more than just a chauffeur. They become their "neighbors" confidants, offering comfort and socialization that they might otherwise be without due to lack of transportation and family support. The volunteers assist their clients with personal paperwork, reassuring phone calls, home safety and regular visits where they have someone with whom to share their worries and their life stories. These volunteers assure that these men and women do not become isolated from the community.
Mevis is the backbone of this organization that serves some 480 clients in Prescott, Chino Valley and Prescott Valley and this year celebrates its 25th anniversary. She never misses a chance to recruit her next batch of volunteers or reach out to those who might need their assistance.
"She does an excellent job interfacing with people, whether they are in the organization or in the community," said Bill Towne, the People Who Care treasurer who also is a regular volunteer.
Mevis, the organization's third executive director, is one of only two people the organization has honored with its Outstanding Contribution Award.
"She does a wonderful job," said Towne of the $200,000 operation she manages.
At 74, Mevis' continued passion for her work, and for the 340 volunteers who enable the organization to function, is an inspiration, according to her supporters.
They will quickly say the People Who Care moniker is perfect because under Mevis' tutelage the agency with donated office space in the Prescott United Methodist Church complex on West Gurley Street has connected people who care to people who need care. Mevis assures every single volunteer is someone who will be caring toward their fellow man regardless of gender, age, race or socio-economic background.
If a neighbor is in need of help, Mevis wants to be confident she pairs them with a volunteer who will extend to them the same compassion she would give to her own family member. Her entire focus for her organization is on spreading love wherever they can to as many people as they can.
On Sept. 19, the agency will expand its operation with the grand opening of a new office at 8098 E. Valley Road in Prescott Valley. The office will be staffed with a part-time manager Sallie Stewart.
People Who Care has just two full-time employees, Mevis and Program Manager Nancy Reynolds and five employees who work between eight and 10 hours a week, including Stewart and the Chino Valley program manager Marie Bernardo.
Over the years, Mevis said she has come to realize that volunteers prefer to work with "neighbors" in their own communities, and the "neighbors" like making connections with those who live in their home community.
As for the motivation to do what she does, Mevis said it's really simple: "I love this organization."
"I love the people we help and I love the volunteers who are the most giving people in the world," Mevis said. "If we can make people's lives a little easier, and make them feel worthwhile … Who wouldn't feel joyful?"
"You can always advocate for the thing you love."
More like this story
SUBMIT FEEDBACK
Click Below to:
This Week's Circulars
To view money-saving ads...