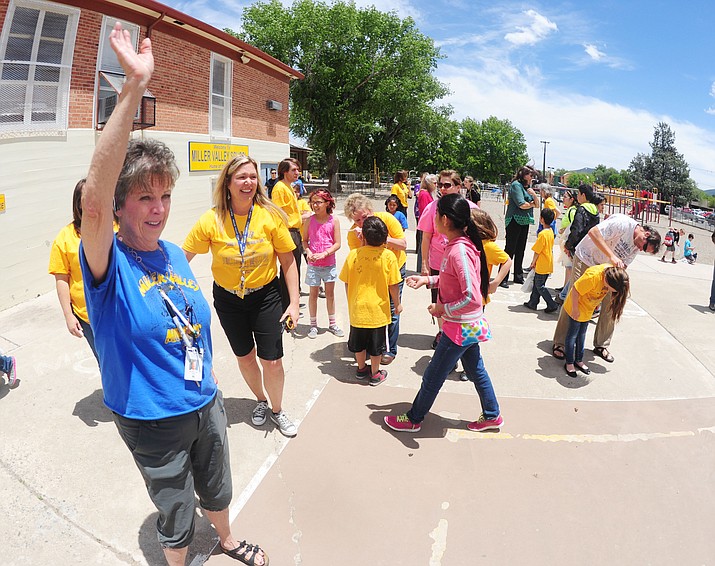 Photo by Les Stukenberg.

Originally Published: September 7, 2016 6:01 a.m.
PRESCOTT – The Prescott Unified School District Governing Board voted unanimously Tuesday night, Sept. 6, to sell three of the district's buildings to a Phoenix real estate developer for the appraised offer.
The sale price will remain confidential until inspections and the contract become final in February 2017.
The board met in a closed-door session prior to casting four votes in favor of accepting the negotiated contracts for the sale of the vacant Miller Valley Elementary School, the current Northpoint Expeditionary Learning Academy charter school and the downtown district offices to Ironline Partners in Phoenix. Board member Tina Seeley was absent.
The sale is contingent on a final agreement to be negotiated with Northpoint for the lease of that property. The deal also includes allowing the district administration to remain in its offices for at least nine months.
Superintendent Joe Howard said the administrative offices may move to the former Washington Traditional School.
With this vote, Ironline Partners will begin a 120-day inspection process. If that meets the buyers' approval, a final closing will be set for on or about Feb. 6. Based on advice of attorneys, the selling price for what will most certainly be a multi-million dollar deal will not be revealed until the deal is signed, sealed and delivered.
"We feel good about where we're at right now," Board President Scott Hicks said after the meeting.
The board is confident the developers are aware of the emotional and historical significance of some of these buildings, particularly the former Miller Valley school that sits on Iron Springs Road diagonally across from Yavapai Regional Medical Center's west campus, Hicks said, adding there has been some talk of retaining the façade of the original school.
This sale obviously comes with some bittersweet feelings, but Howard said he believes the board has taken the right action to benefit the district and taxpayers.
"Those five people have made such incredible decisions over the last five years. I have 100 percent faith in their decision-making skills," he said. "Exciting times. Change is hard, but it's healthy."
The district's Real Estate Broker JT Purvis of Certified Properties of Northern Arizona said he sees this as a "good investment for the school district."
"It's a win-win for everybody involved," said Purvis, who with his partner Donald Teel brokered the deal. "There is a lot of sentimentality and we understand that, and so do our developers.
Ironline Founding Partner and Chief Executive Officer Bob Karber agreed that the board's vote is a major step forward. Any development plans will be thoughtfully considered, and will require the blessings of city leaders through the standard land use processes, he said.
"We're super excited," said Karber, who with his partners also own the former Jack In The Box property on East Gurley Street. "We're thrilled for the opportunity."
Related Stories
More like this story