Prescott orthopedic surgeon's charity offers hope to patients in Central America
Originally Published: September 7, 2016 4:03 a.m.
Updated as of Wednesday, September 7, 2016 12:18 PM
A Guatemalan villager nearly killed and crippled by gunfire owes his ability to walk without pain today to Prescott orthopedic surgeon Bertrand Kaper, the founder of Operation Walk Arizona, an affiliate of the international organization Operation Walk.
In trips to Guatemala and Ecuador, Kaper and his team of doctors, nurses and other medical professionals provide free surgery to repair injuries and deformities to patients who could otherwise never afford such care.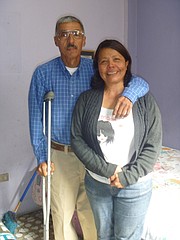 In the case of Freddie, the villager caught in the line of fire, bullets fractured his femur at his left hip joint and a local surgeon repaired the injury the best he could without the benefit of modern technology.
Freddie's hip, which still contained lead fragments, developed severe arthritis, and he was left with a leg that was three inches shorter than the other.
"Freddie was actually developing systemic lead poisoning. He was so anemic that our internist said 'We shouldn't operate on this patient.' I argued that we had to because if we didn't, he was only going to get worse. Let's just take a chance," said Kaper, a surgeon with Orthopaedic Specialists of Central Arizona that has offices in Prescott and Scottsdale. Kaper performs surgery out of the Prescott Outpatient Surgical Center and at HonorHealth Thompson Peak Medical Center in Scottsdale. He also is chairman of POSC's board of directors.
The average Guatemalan's annual income remains well below the cost of more modern surgery, making other medical options for Freddie, who could not walk, beyond his financial reach, Kaper said.
Through his medical philanthropy, Kaper performed a surgery that removed the old hardware used to fix his fracture, removed the lead fragments, and implanted a hip replacement prosthesis to restore the joint and correct the length of his leg.
"I can't tell you how happy I am. I couldn't walk, the pain was too much. Now it's easy to sit," Freddie said of Kaper's intervention through an interpreter.
Freddie's story is an illustration of why Kaper is so committed to this mission. In seven years, Kaper has taken 12 week-long trips to Guatemala and four trips to Ecuador.
"It brings tears to your eyes - even though we are there for only seven or eight days at a time, doing what we can to make a difference, you realize that what we can make a very large impact," Kaper said. "In these villages, everybody needs to contribute to the family and work, and people who can't may be left to fend for themselves."
For his humanitarian efforts, Kaper was honored this year by HonorHealth with its Citizenship and Community Service Award for his ongoing commitment to Operation Walk.
"We wanted to honor and recognize Dr. Kaper for the great community service and care he provides both locally and internationally. He is an amazing physician," said David Price, CEO of Scottsdale Thompson Peak Medical Center.
In Ecuador, the team works with girls and women with untreated hip dysplasia and helps them walk again with hip replacement surgery. They also educate new mothers that the tradition of swaddling can cause deformities that prevent walking.
The team members pay all of their own expenses, and fundraising supports shipping and supplies. Medical companies donate new implants as well. Providing the same standard of care there as in the United States makes the team proud, Kaper said.
"They are getting the exact same care that my patients get here, the same surgeons, anesthesiologists, an internist or two, operating room nurses, operating scrub techs, physical therapists and the same implants," Kaper said.
Working conditions in these nations, however, is quite different.
For example, Antigua, Guatemala, has three volcanos.
"About two years ago, there were some minor eruptions, and we've had one earthquake," Kaper said. "We just stopped. The OR lights start to sway; we just had to wait until it passed and hope for the best. If the patient is in the operating room and the surgical wound is open, we can't just evacuate the building."
Local doctors help with follow-up care, and American physicians are available via email, text and video for consultations.
"The access to healthcare that we have in the United States is not what the rest of the world has," Kaper said. "Even if they did have the access, they don't have the money.
"In medicine and especially in surgery, it requires resources and a dedicated team of individuals working together. What we've been able to do is find a bunch of like-minded people who are all committed to giving back in places where there are tremendous needs. We take care of as many people as we can because if we're not there to do it, they don't get these surgeries."
More like this story
SUBMIT FEEDBACK
Click Below to: