Obituary: Erie Elaine Webber Pereboom
Originally Published: September 4, 2016 6 a.m.
Erie Elaine Webber Pereboom was born August 18, 1927, in Cold Springs, Oklahoma, to Santford and Erie Emma Rose Webber and went to Heaven August 29, 2016, in Prescott, Arizona.
Services will be held in Prescott, Arizona, at 10 a.m., Friday, September, 9, 2016, at American Lutheran Church, 1085 Scott Drive Prescott, AZ 86301.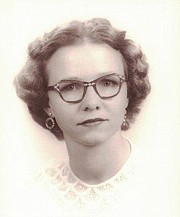 Elaine was the seventh child and fifth daughter of seven children. She was predeceased by her parents and six siblings; her father died in September of 1933 when she was six years of age and her mother lived until October 1977 and died at the age 91 in Paul's Valley, Oklahoma. She graduated from Mountain Park High School, Mountain Park, Oklahoma. She was saved as a young girl in Mountain Park where she was baptized in a little lake and attended the Baptist Church there. She put herself through college and graduated from the University of Oklahoma in 1948, with a degree in Journalism. She met her future husband, Eugene Gerhard Pereboom, at Norman, Oklahoma at the University of Oklahoma, introduced by his roommate. And that was the beginning of 67-plus years of marriage.

They loved to go to Moore, Oklahoma, where they ate chicken dinners. Eugene was getting his bachelor's degree in electrical engineering and she worked at the University Press and then they were married at the First Baptist Church in Norman, Oklahoma, on September 3, 1948; they honeymooned in Denver, Colorado and Pikes Peak mountain.
The couple returned to OU to the student housing so that Eugene could get a Master's Degree in electrical engineering. Upon graduating, jobs were not to be had in engineering and she followed him to Texas where he taught drafting. And then a position opened up in Tulsa in engineering with Southwest Power Association in 1949.
After settling in Tulsa, Oklahoma, the first of three boys, Douglass Eugene, was born on April 23, 1950. Then Westinghouse offered Eugene a position in Baltimore where Victor Ross was born on February 8, 1952. Next stop was St. Louis for a short time and then on to another offer within Westinghouse and the family moved to Merriam, Kansas, and there the third son was born, Gregg Alan, on December 1, 1955.
After ten years in Overland Park, an offer from Western Farmers Electric Co Op of Anadarko, Oklahoma, brought her family from Kansas to Chickasha, Oklahoma. Three years later Eugene was offered a position at Southern
California Edison and so she settled her family in Los Alamitos, California. There was another move to Springfield, Missouri, and then back to Southern California with Bechtel Power Corporation where he was project manager of power plants. Later, an offer from Bechtel in Houston, Texas meant another move that would bring her closer to her extended family.
In 1989 Elaine joined the Daughters of the American Revolution (DAR), where she served as Regent in 2001-2003 in the Gen. George Crooke chapter for that organization. She so enjoyed the ladies of the DAR and the service that she was able to provide to veterans, schools and her community.


Elaine was also a member of the Colonial Dames Society. She joined in April 2005 as a descendant of William Rose of Virginia.
Elaine's career in life insurance sales started in Houston in 1975 when she sold for Aid Association for Lutherans. Her career spanned 15 years and she won many awards and accolades. When Eugene retired from Bechtel in Houston, the two of them moved to Prescott where she continued to serve the Lutheran community providing financial services. She retired November 30, 1990, and enjoyed traveling with her husband and seeing her sons and grandchildren.
As might be expected for a journalism major, Elaine loved to read. This was a gift she passed on to her boys. She loved history, especially Indian history of the southwest. She enjoyed books about Geronimo, who was buried near her childhood home, and Gen. George Custer.
Elaine loved to walk for exercise, usually with Gene, before it became popular. She also loved nature, selecting their Prescott home because a creek flowed on one side. She took many a hike with her grandchildren through the "Rockys", the natural area behind their Prescott home.
Elaine is survived by husband Eugene Pereboom of Prescott, Arizona; three sons: Douglass Pereboom and wife Debi of West Palm Beach, Florida, Victor Pereboom and wife Kathy of Prescott, Arizona, and Gregg Pereboom and wife Shelley of Murray, Utah; ten grandchildren, six great-grandchildren; several nieces and nephews, and many other friends and relatives.
Her family suggests memorial gifts in lieu of flowers may be made to American Lutheran Church, 1085 Scott Drive Prescott, AZ 86301, 928-445-4348.
Information provided by survivors.
SUBMIT FEEDBACK
Click Below to:
More like this story