Chew on This: 'Ting' returns to open Thai Café in PV

By
Max Efrein
|
mefrein
Originally Published: September 2, 2016 12:24 a.m.
About two years ago, Tara Thai II in Prescott Valley closed.
Rex Cullum and Somporntip Thongsoob, the married couple that owned the Thai restaurant together, separated and went their respected ways after 13 years of business.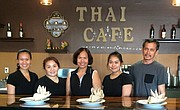 Cullum went to open Tara Thai in Prescott off Cortez St. and Thongsoob, better known as Ting, went to co-own a restaurant in Chandler called Phuket Thai with her son-in-law.
It wasn't long before Ting decided she wished to return to Prescott Valley and gift her ownership of the Chandler restaurant to her daughter as a wedding present.
"I love it here (Prescott Valley)," Ting said.
Taking over the location previously occupied by Origin Bistro at 3050 N. Windsong Drive, Suite 101, Ting opened Thai Café on May 14 of this year.
Drawing from more than 20 years of restaurant cooking experience, Ting has once again taken on the duty as head chef of her restaurant and has brought back the dishes Prescott Valley residents enjoyed at Tara Thai II.

"The menu is the same," Ting said.
That includes popular staples like pad Thai, yellow curry and mi krop, a crispy noodle dish.
Between 11 a.m. and 3 p.m., such dishes can be purchased for a lunch special deal of $7.95, and come with steamed rice and a choice of soup or salad.
Ting said between noon and 1 p.m. is especially busy, so customers may wish to avoid that lunch rush for a more pleasant dining experience.
For dinner, served 5 to 9 p.m., the portions and the prices go up and do not include the extra sides. Pad Thai, for instance, is priced at $10.95.
The restaurant is closed between 3 and 5 p.m.
Previously open seven days a week, Ting recently decided to give her staff a break by closing on Sundays from now on.
Something Ting also recently decided to begin doing at the recommendation of her restaurant's manager, June Punsoon, was to offer delivery service. Punsoon used to work for a Thai restaurant in Flagstaff and recalls them making a lot of money from it.
"In this town, there's never been a Thai restaurant that does delivery, so we wanted to try being the first one," Punsoon said.
The delivery service operates within a five-mile radius of the restaurant and costs an additional $2.
Last week, the restaurant also acquired a liquor license to serve wine and beer.
In addition to her experience in Flagstaff, Punsoon has also worked for a Thai restaurant in Phoenix and another in Sedona.
"Each one had different things and I learned from each, so I've mixed all of the good into this restaurant to make it the best," Punsoon said.
SUBMIT FEEDBACK
Click Below to: