Arizona power musicians jam at Raven: Walt Richardson & Friends

By
Max Efrein
|
mefrein
Originally Published: September 2, 2016 12:32 a.m.
The Raven will be hosting a group of heavy-hitting musicians on Friday, Sept. 2, from 8 to 11 p.m.
On the guitar and singing vocals will be Arizona Music & Entertainment Hall of Fame inductee Walt Richardson. On the drums will be veteran touring/studio drummer Gigi Gonaway. On the bass will be in-demand bass and classic guitarist in the Valley Felix Sainz. And on the lead guitar will be Prescott's own Drew Hall, frontman for The CheekTones and equal half of Drew & Anton.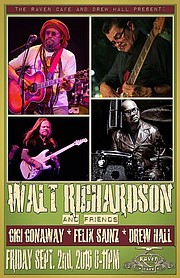 Titled Walt Richardson & Friends, the gig will consist entirely of Richardson's original music. His style incorporates aspects of folk, rock and reggae.
This will be the first time all four have jammed together, so it should make for an interesting interpretation of Richardson's work.
"A part of playing with musicians on the level of Drew and everybody is once you get a basic understanding of the flow, you can just wing it," Richardson said. "It brings a great sense of spontaneity to the tune."
Gonaway, who has worked with the likes of Mariah Carey, Whitney Houston, Aretha Franklin and Steve Winwood, is currently producing Richardson's next album. Richardson's last album, "'Twas The Night Before Christmas," was released in 1996.
"I'm a great procrastinator," Richardson said. "People have been waiting and asking for something for a long time."
Many of those new songs, none of which have officially been released, will be played at The Raven.
Hall said they will likely play for about an hour-an-half, take a short break, and then continue until 11 p.m. The event is free to attend.
"People who go out and listen to live music in Prescott have definitely heard me because I play all the time," Hall said. "So basically it's me, the local guy, bringing in these big guys. It's really just all about the original music and the high level of musicianship of these players; and me being fortunate enough to play with them."

SUBMIT FEEDBACK
Click Below to: