By
Nanci Hutson
|
HutsonNanci
Originally Published: October 29, 2016 6:51 a.m.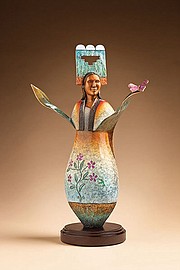 Native American artists' creativity and expressive talent often revolves around tribal traditions and the preservation of cultural identities, with their works an exploration of different mediums, according to a Phippen Museum news release.
To experience this showcase of varying types of Native American artwork, museum leaders invite the community to come and view "The People Speak" exhibition that will be offered this month through Feb. 19.
"This special exhibit is designed to showcase the incredible talent and artistic works of Native American artists from some of the many tribes located in the western United States," the release said.
The collection comes to the museum through "thoughtful collaborations" with both artists and collectors alike. The exhibition will include a display of paintings, folk art, baskets, jewelry, kachinas, rugs, pottery, ceramics, beaded garments and contemporary glasswork.
Though the museum could not represent every tribe's artistic talent, this exhibit offers all who come a sense of the various artistic traditions created within these cultures and provides an immersive experience that delves into the artistic vision of generations of American Indian artists from across the West, the release said.
Featured artists include local sculptor Doug Hyde, a Native American of Nez Perce, Assiniboine and Chippewa descent; and Fil Kewanyama, who was born on Hopi land in northeastern Arizona.
Hyde's artwork is influenced by the Indian lore he learned from his grandfather and other tribal leaders. Those traditions inspired Hyde to express Indian mythology and spirit through his sculptures, the release said.
Kewanyama grew up with all the Hopi ceremonies and was influenced to draw, paint and carve by these sacred rites and rituals, the release said.
Other artists to be included in the exhibition are: Tony Abeyata, Al Bahe, Harrison Begay, Adee Dodge, Tammy Garcia, Baje Whitehtorne and more.
The museum is located in downtown Prescott at 4701 Highway 89 North.
Admission is $7 for adults, $6 for AAA members, $5 for students with an ID and free for museum members and children 12 and younger.
For additional information, call the museum at 928-778-1385 or visit the website: www.phippenartmuseum.org.
More like this story
SUBMIT FEEDBACK
Click Below to:
This Week's Circulars
To view money-saving ads...