A Prescott Valley family involved in Sunday's 24-vehicle crash on Interstate 17 is recuperating – some at home, some still hospitalized.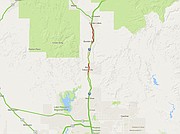 Four people were airlifted Oct. 23 to Phoenix-area hospitals after the driver of a commercial cattle hauler failed to slow for congested traffic near Black Canyon City and sideswiped or rear-ended 23 vehicles. Three of those people were from the Bray/Rollins family.
Miles Rollins' coworker, Ricardo Mosquera, started a GoFundMe account Monday to raise money and by Tuesday evening more than 100 people had contributed $9,590 to help cover immediate expenses and future costs.
Rollins, his wife, Jesse Bray, their two elementary school-aged children and Bray's brother were in one of the vehicles hit by the tractor trailer.
According to the GoFundMe site, Rollins suffered various injuries, including a broken clavicle and fractured pelvis. He will remain in the Intensive Care Unit for at least two more days.
Bray is badly bruised from head to toe, and suffered a broken nose. Her brother underwent surgery for internal injuries, and was able to stand upright with assistance by Tuesday afternoon. The daughter, Raina, has a concussion and other possible injuries. She and her younger brother, Blue, have been discharged. Blue escaped with a severely bruised knee.
"They're looking at some very expensive hospital bills," Mosquero said, adding that Bray is staying in a hotel near the hospital. "That's the last thing they need to worry about – bills and all."
On Tuesday evening, Bray, who was surprised at the amount of contributions so far, posted on Facebook, "Our hearts are overwhelmed with gratitude … We as a family cannot thank everyone enough for all the kind words, concern, and the motivation to help us as we process the severity and magnitude of what lies ahead as far as recovery."
The Department of Public Safety (DPS) closed the freeway for eight hours on Sunday. Dan Kowalsky, senior support specialist at Embry-Riddle Aeronautical University, was one of many drivers caught in the lengthy backup.
"I was very close to being in that accident. I was trying to take a buddy of mine to the airport," Kowalsky said, adding that his friend missed his flight on American Airlines and was required to purchase another ticket.
"What should have been 90 minutes, turned out to be four hours for us. People were hanging out, playing games, walking their dogs. The highway turned into a parking lot," he said.
Kowalsky was about a mile from the accident scene. The tractor trailer driver apparently failed to slow for congestion caused by a previous motorcycle fatality, said Bart Graves, DPS media specialist.
Thirteen other people were taken to area hospitals via ambulance.
Further information, including others who were hurt, and possible charges, was unavailable.
More like this story
SUBMIT FEEDBACK
Click Below to:
This Week's Circulars
To view money-saving ads...